The year was 1976 when USDA had just lowered its standards for the Choice quality grade. The industry that lobbied for the change was quickly moving toward a lean, commodity product. Angus cattle sold at a discount and registration numbers were in steep decline.
One Angus breeder in Ohio had an idea to turn things around: create a high-quality, specification-based brand.
The American Angus Association producer board ran with it, placing Association Regional Manager Louis "Mick" Colvin at the helm. He was tasked with a project most said couldn't be done.
On October 18, 1978, the first pound of the Certified Angus Beef brand was sold in Columbus, Ohio. Two weeks later, USDA cancelled the program.
Most said that was the end. Nice try.
Most people aren't Mick Colvin.
Before the brand
Born the son of a dairy farmer in 1938 near the village of Shellsburg, Pa., Colvin was more likely to milk cows than launch the world's largest beef brand.
It was the gift of a Hereford heifer from his father at age 11 that sparked his love of beef cattle.
He went on to study animal husbandry at Pennsylvania State University, where he also worked in hog barns for 80 cents an hour and was an avid member of the livestock judging team. As a sophomore, he married high-school sweetheart Virginia.
Upon graduation, on the advice of his judging coach, Colvin took a position as herdsman for Mole's Hill Farm, a registered Angus outfit in Connecticut.
He led the herd to win three international champions in four years, winning a prestigious trophy for herdsman of the year in 1963. He met people like Ohio Angus breeder Fred Johnson, and developed relationships that would change his life.
Colvin's success caught the eye of Hereford breeders, who offered him herdsman positions he politely declined. As a reward for choosing to remain at Mole's Hill, he was given choice of a heifer each year, the start of a registered Angus herd he could call his own.
In 1966, the Colvins moved to South Carolina where he would manage another purebred Angus operation, Longleaf Plantation. The farm had never exhibited cattle before Colvin took the reins, but promptly won a Supreme Champion female ribbon at the All-American Futurity in Lexington, Ky.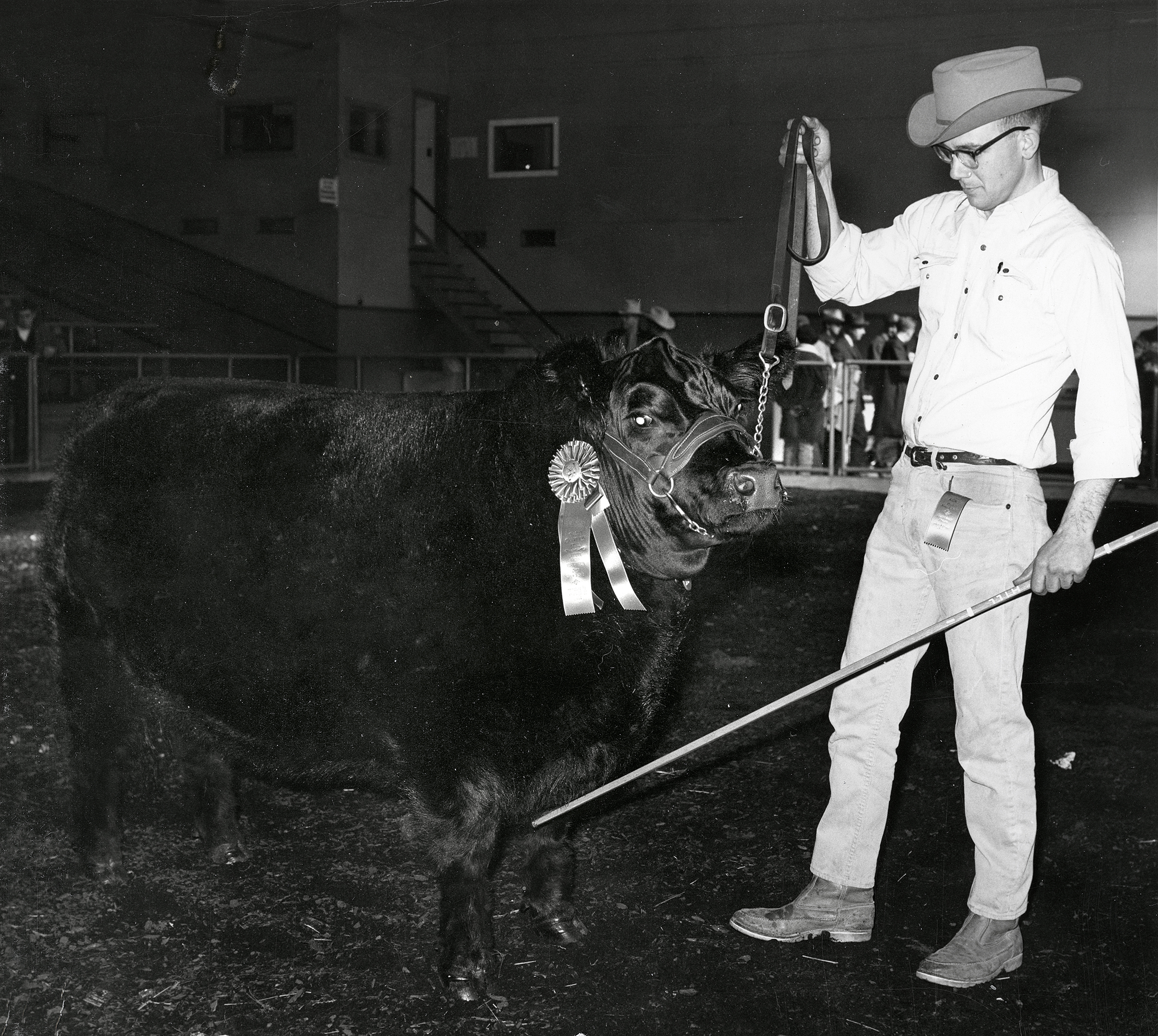 In 1966, the Colvins moved to South Carolina where he would manage another purebred Angus operation, Longleaf Plantation. The farm had never exhibited cattle before Colvin took the reins, but promptly won a Supreme Champion female ribbon at the All-American Futurity in Lexington, Ky.
Johnson, of Summitcrest Farm, had been watching his young friend with appreciation.
"Mick was enthusiastic, knowledgeable and a hard working herdsman with great integrity, even then," Johnson remarks on an archive video made in 1999.
It was just the beginning of multiple awards, banners, accolades and hall-of-fame inductions and throughout his career, but the one that meant the most to him was having his likeness hung in the Saddle & Sirloin gallery in Louisville, Ky.
 "He was a farmer always," says Saddle & Sirloin portrait painter Richard Halstead. "A very brilliant man, and a visionary."
Colvin is most unassuming and possesses a "tremendous mind," the artist says. "This man is of enormous value to the entire livestock industry, but especially to the Angus breed for what he did in building the Certified Angus Beef brand."
Nearly impossible
It was no easy feat.
Knocking on seemingly every door in the beef business, he heard the same phrase repeatedly.
"Young man, this program sounds like a good idea. You come back or give me a call when you get it started."
He kept knocking, until he finally got the answer he was looking for: "Yes."
"I thought when we got that first pound sold that we were just about as successful as we could ever be," says Bob VanStavern, meat scientist who helped create the 10 science-based specifications the brand is based on today. "Because the concept had worked."
It took 22 months to sell the first million pounds of the trademarked but not-yet-registered brand.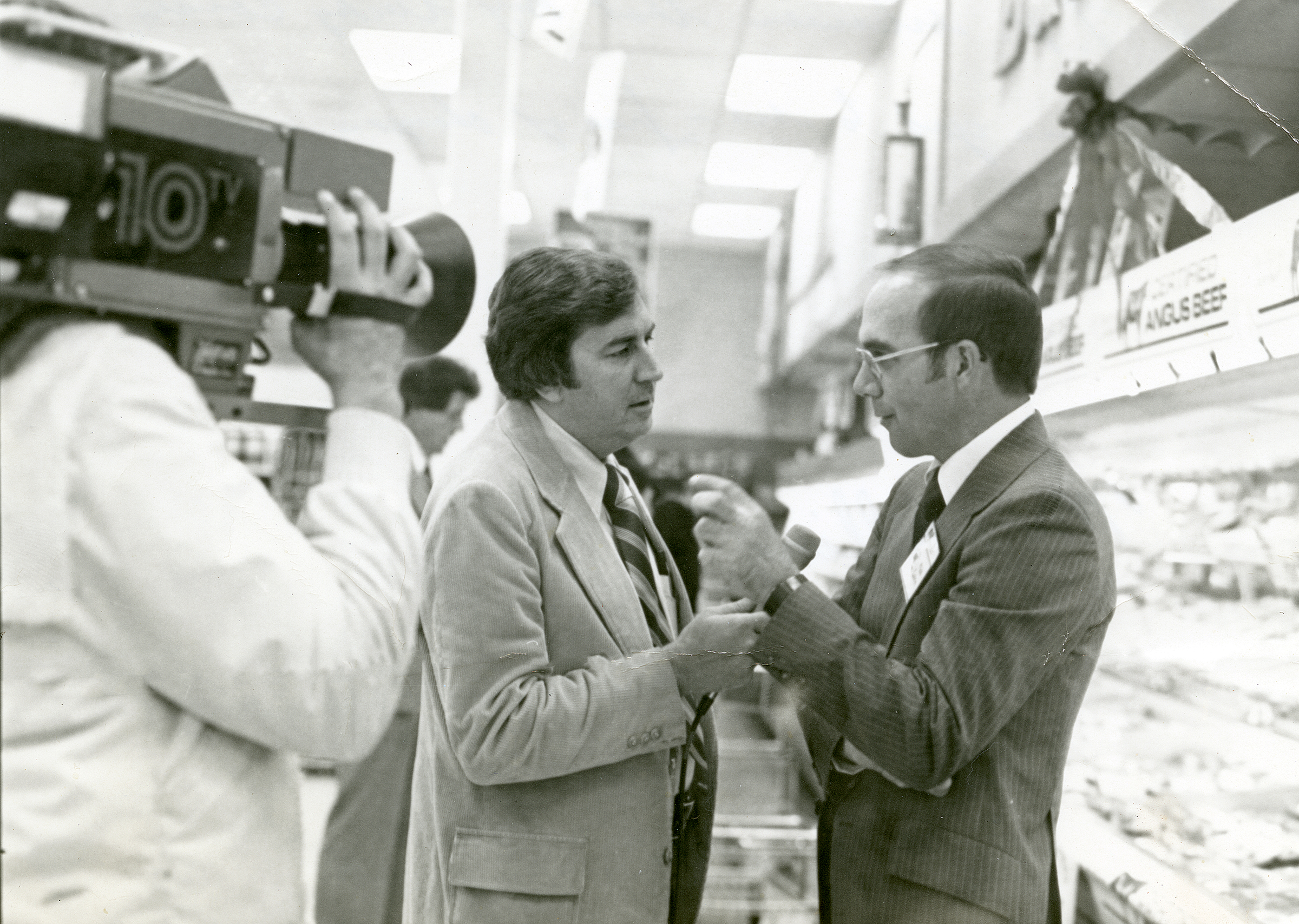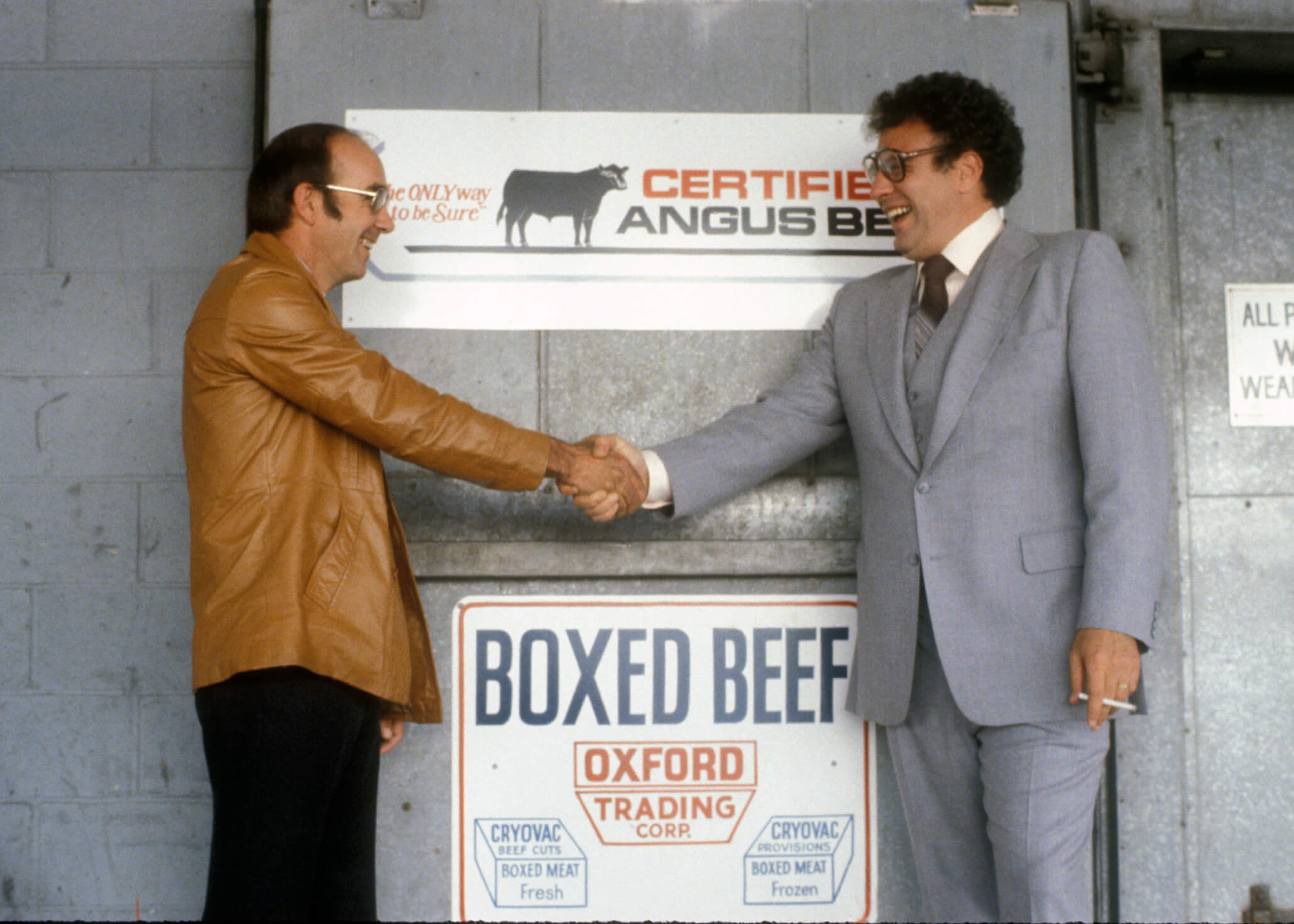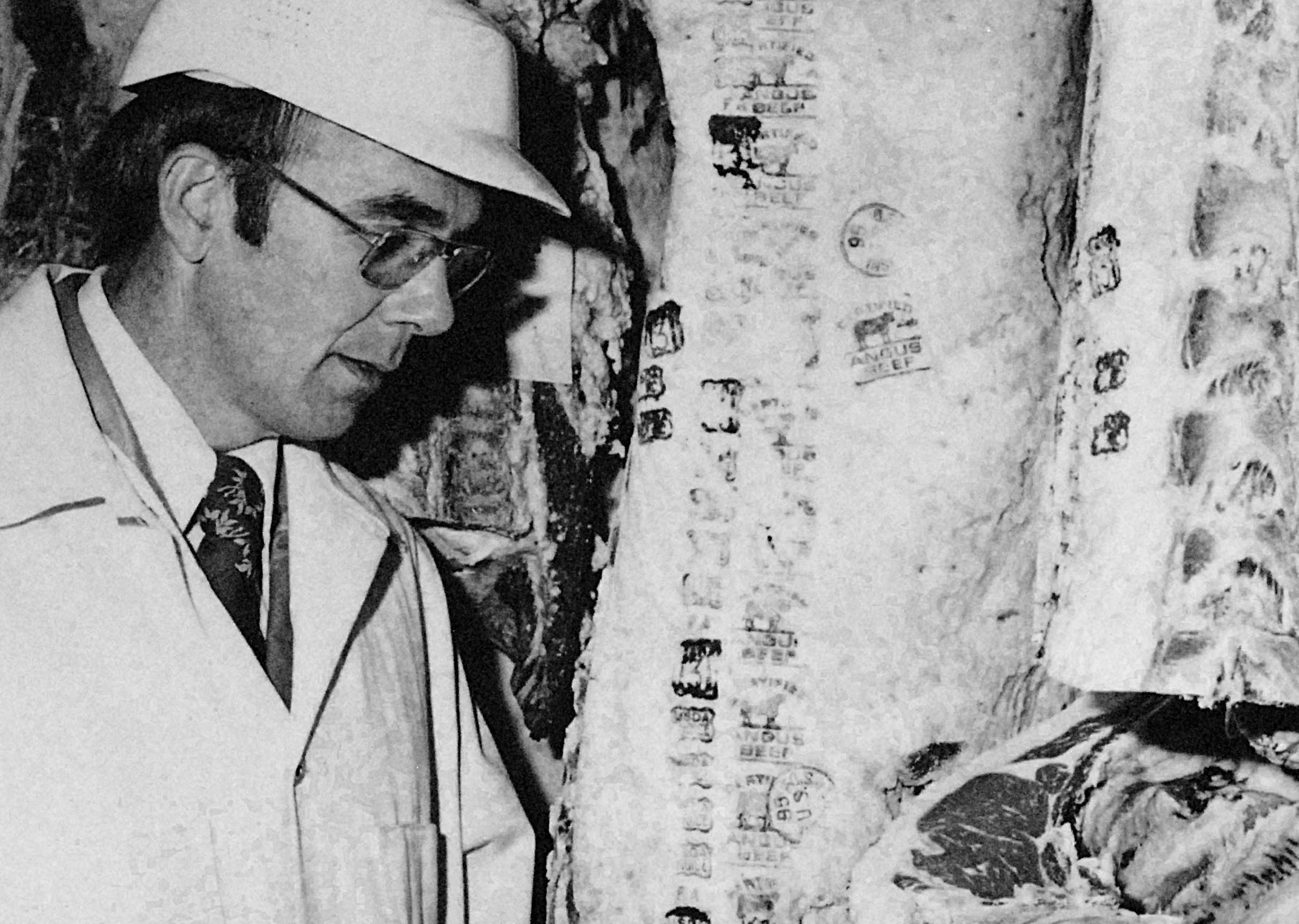 Now, 19,000 Certified Angus Beef ® (CAB®) brand licensed partners around the world market more than 100 million pounds a month.
"I wish I could say we had a plan, but we flew by the seat of our pants," Colvin says.
In the early days, he and Virginia were the driving force. While her husband knocked on doors trying to sell the program, Virginia made folders, kept records and tracked how the pounds were used that came from the one or two carcasses certified each week.
Today, nearly 10 carcasses are certified each minute. 
"Looking back, it looks easy," Colvin says. "But it wasn't."
A solid foundation
He built a brand based on his core values — the most important being integrity. Colvin describes the word as "endless" — a term that could stand the test of time.
It's a foundation that was tested more than once throughout his career leading the brand.
"I remember when we cancelled our first foodservice distributor," he says. "I was scared to death, I really was. But the man didn't have integrity and we knew it."
The decision led to the brand's first major lawsuit.
"We ended up winning, because it was all about integrity," he says.
The ability to stand behind its marketing claims set the Certified Angus Beef brand apart from the others that would follow. From the beginning, each pound has been tracked from the packing plant of certification to the final sale.
Colvin always made sure the brand could stand behind its name and claims.
Being a true to his word was more than the key to his success, it was integral to the brand's existence.
As he built the brand he encountered more stumbling blocks. From Association board votes that nearly ended the program to meetings with the New York mafia to secure packers, Colvin persevered. 
"To try and get someone to believe in Certified Angus Beef the way we did — a packer, distributor or retailer — was a huge hurdle," Colvin recalls.
Through it all he kept the brand's mission at the center of his tough decisions and the onslaught of rejections.
"I never saw a time where he put his personal interests above what was in the best interest of the program," Fred Johnson had recalled.
This philosophy and tenacity laid the foundation for the brand's growing success. Some partners like Houston's Taste of Texas steakhouse and Boston's Oxford Trading, the brand's first foodservice distributor, are still CAB partners 40 years later.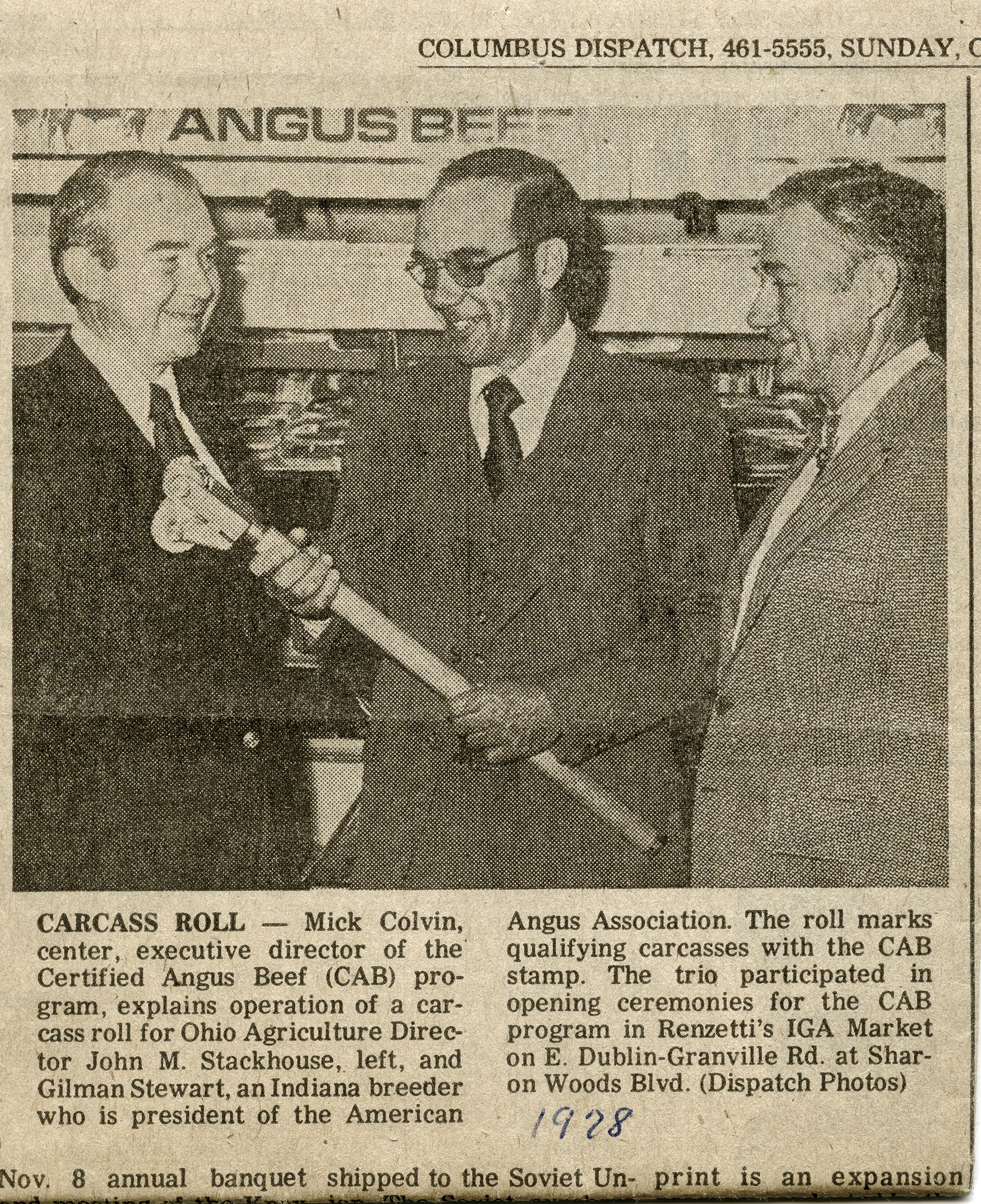 Making a difference for cattleman
More than just building the first brand of fresh beef, Colvin had to provide returns for the cattlemen who owned the brand. He knew the consumer pull-through-demand model worked, but the brand's mission is to increase demand for registered Angus cattle.
He delivered on that seemingly impossible feat, too.
For more than 20 years he led efforts to encourage packers to pay premiums for cattle that qualified for the brand. It took 9 years before the first incentive was recognized but today the CAB premium is an expectation on settlement sheets. Packers now pay more than $75 million dollars annually just for the CAB line item on the grid for cattle that meet the brand's standards.
"The Certified Angus Beef Program is the most significant advancement in the beef business since carcasses began to be ribbed and graded in 1965 or when boxed beef got its foothold in the early '70s," says Tim Hussman, Colvin's first hire for the brand in 1983 and past president of Newport Meat Co., Irvine, Calif. "Through Mick's leadership, breeders, feeders, USDA, packers, purveyors and retail stores continue working together to produce and deliver the highest quality beef we know how."
He's humble, gentle and never takes the well-deserved credit.
"It's astronomical what we've done," he says. "I don't know what more I can say about the success we've had."
It's never I, always "we."
"Looking back it, looks easy…but it wasn't"
–  Mick Colvin
All about his people
It's been nearly two decades since the cofounder stepped down from that helm, but his presence and legacy still permeate the brand.
He walks in the front door at the Wooster, Ohio, office like it's his home. Familiar, excited faces greet him and he chats with scores of them, including many who joined the brand during his tenure. They've carried the torch he lit on the mission he began.
Today the staff is bigger, the pounds and commissions break records like clockwork and the computers tracking it all are newer. After 14 years of consecutive growth, it seems like CAB has always been a wild success.
"We hired people for their people skills. We made people a part of the program and it paid big dividends," Colvin says.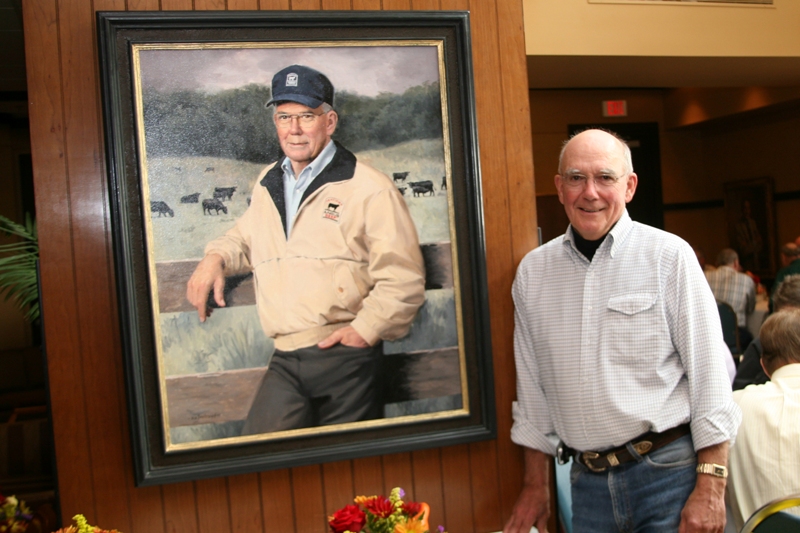 Colvin stands next to his portrait, which is displayed in the Saddle and Sirloin Hall of Fame. 
Modest and casual by nature, Colvin has been an enormous presence in that world. His emphasis on people, integrity and perseverance transitioned the beef industry—after its diversion to mere pounds of commodity—back to a sustaining focus on quality that performs for all people in the production chain.
"I had to hear from other people how important Mick Colvin was, because he would never say anything like that," Halstead says. "He never spoke of himself or all his other accomplishments; he just spoke highly of other people. It was his staff and colleagues who emphasized his impact."
Ask Colvin about greatness, and it's no surprise that his answer looks outward to CAB staff.
"To me, being great means every person who works for the brand is happy," he says.
Some will say Colvin's legacy is the brand, but those that know him realize it's much more. He will always be known as a man of integrity—one who values doing the right thing above personal or commercial gain.
"That's someone who's a great personality, somebody with real character, somebody great," Halstead says.
This story by Nicole Lane Erceg originally ran in the Angus Journal.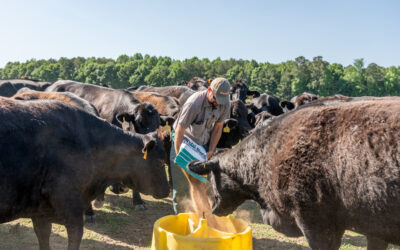 Expert guidance from Dusty Abney at Cargill Animal Nutrition shares essential strategies for optimizing cattle nutrition during droughts, leading to healthier herds and increased profitability in challenging conditions.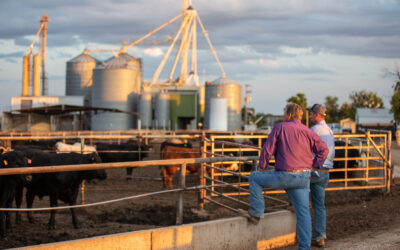 Understanding what constitutes value takes an understanding of beef quality and yield thresholds that result in premiums and/or discounts. Generally, packers look for cattle that will garner a high quality grade and have excellent red meat yield, but realistically very few do both exceptionally well.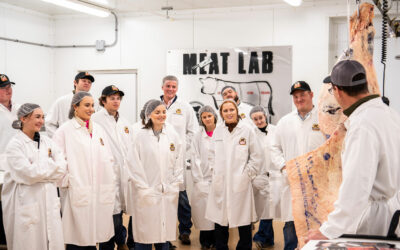 There are three ways CAB promotes leadership and growth for the next generation within the beef industry. Internships, events and scholarships can help invest in the next generation who are the future ranchers, chefs, and beef industry professionals.