About Certified Angus Beef
The Brand that Changed Beef
It's a bold statement to make, but one we don't take lightly. The Certified Angus Beef ® (CAB®) brand was the first and we'll say still the best beef brand in the business, but it's because we're more than the average marketing label. We're a rancher-driven, not-for-profit business, focused on growing beef demand and increasing ranch profitability.
We Work for you
As a subsidiary of the American Angus Association, our Ohio-based team works on your behalf to build demand for your beef, and that translates to more dollars in your pocket. For more than 40 years, our recipe for success has been marketing a premium Angus product with superior flavor through a growing network of licensed partners. We've also developed our own cattle crew devoted to helping all cattlemen from breeder to feeder get a piece of the $92 million in grid premiums paid each year.
More than a Black Hide
Not all Angus are created equal. In order to supply the best Angus beef, cattle must first be identified with a predominantly black hide at the packing plant, then carcasses must meet our 10 standards during the beef grading process. These criteria guarantee our nearly 20,000 partners around the world get a consistent, superior Angus product. Every time.
10 Standards
To Be Certified
1. Modest or higher marbling
2. Medium or fine marbling texture
3. 30 months of age or younger
4. 10- to 16-square-inch ribeye area*
5. 1,050-pound or less hot carcass weight
6. 1 inch or less fat thickness
7. Superior muscling (restricts dairy influence)
8. Practically free of capillary rupture
10. No neck hump exceeding 2 inches
*Up to 19 square inches for ribeye area is acceptable for tenderloin, brisket, thin meat, chuck and round cuts at approved plants. Rib, ribeye, strip loin and short loin are excluded from this option.
From Conception to Consumption
We believe good partners make for a better bottom line. Cattle markets come and go, but a solid link that connects the industry maintains profit potential. We partner with professionals at every step of the beef supply chain adding value along the way.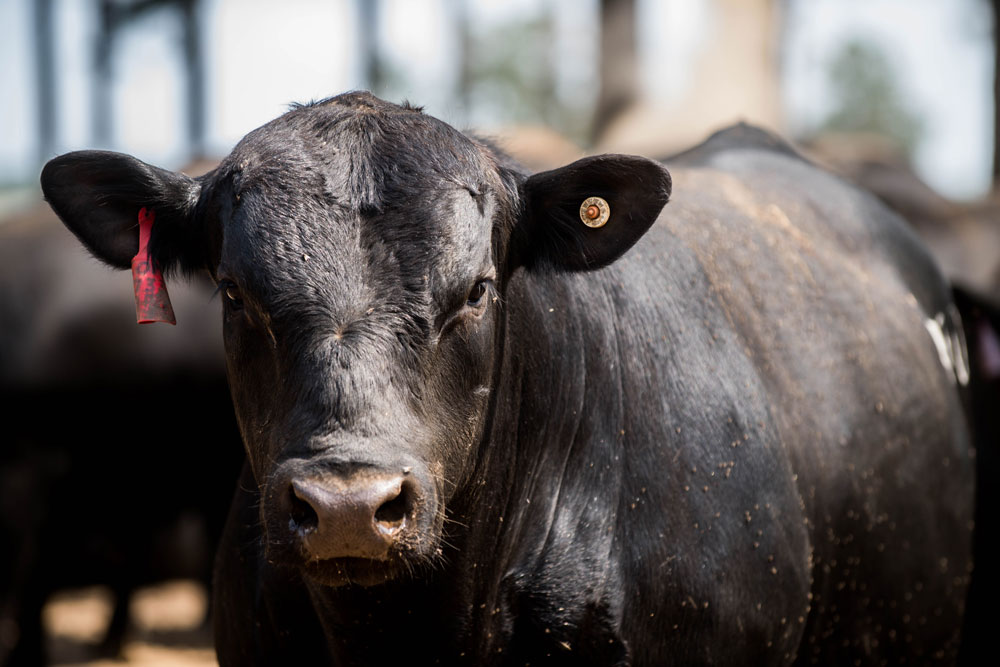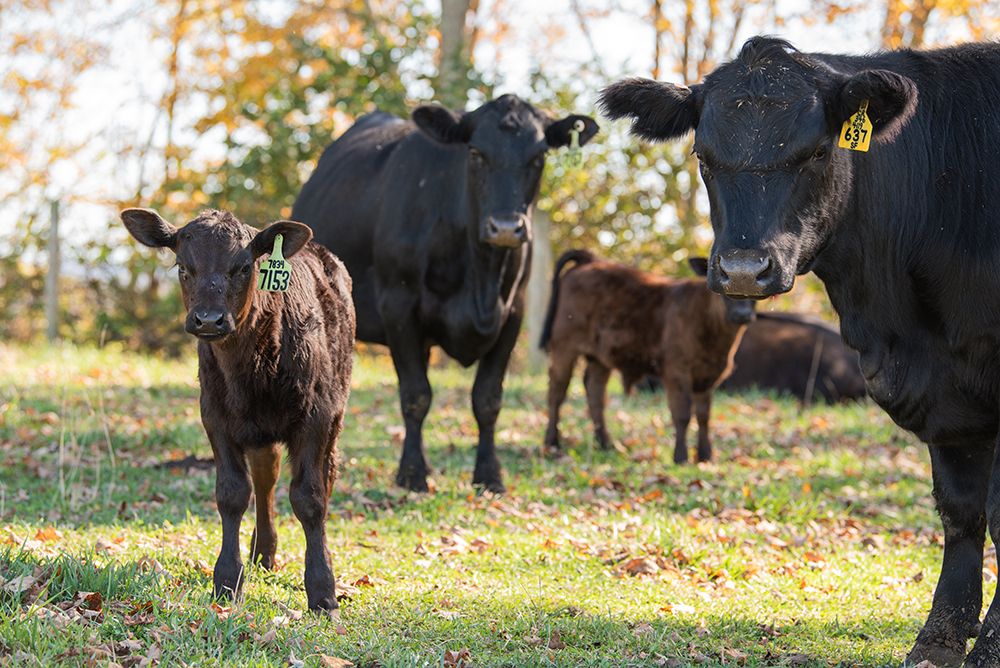 Commercial
High-percentage commercial Angus calves are often worth $30/head more than non-Angus calves at auction. It's not just hide color: documented Angus genetics fetch even higher prices and deliver real value in retained ownership.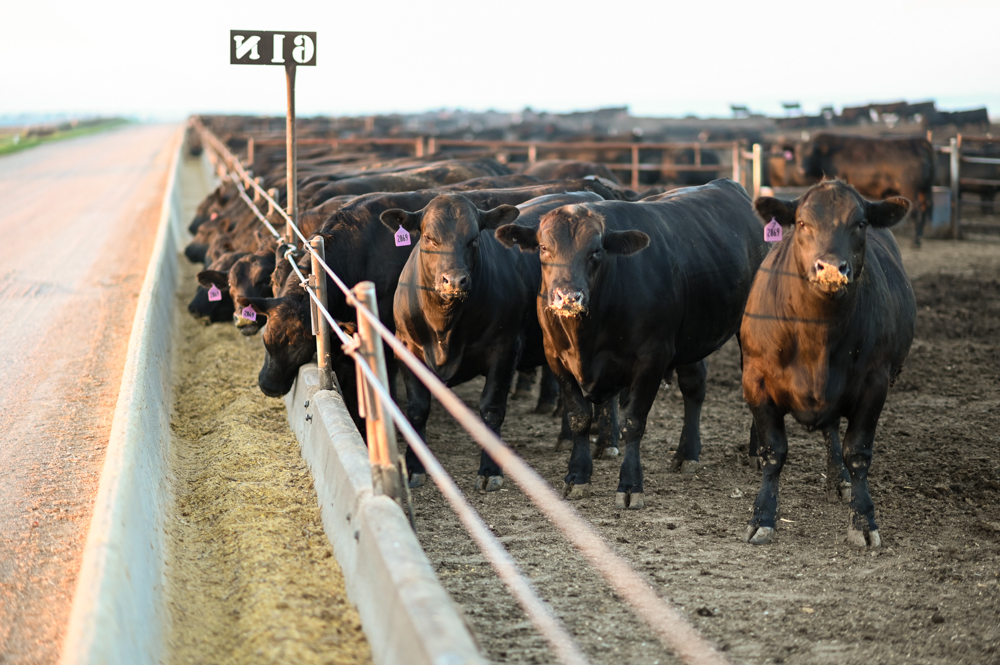 FEEDYARD
Data on more than 400,000 cattle shows the most profitable third graded 56.2% Choice and 12.3% premium Choice for $90.26/head profit, $130 more than the lowest third with 49.8% Choice. Sorted for quality, the highest grading third (72.8% Choice or better) had the highest gains and most profit.
Packer
At CAB-licensed packing plants cattle are identified, graded and certified by a USDA grader if all 10 carcass specifications are met. Packers pay CAB on a commission structure an average of 2 cents per pound to generate the revenue that keeps the brand operating and funds product marketing efforts.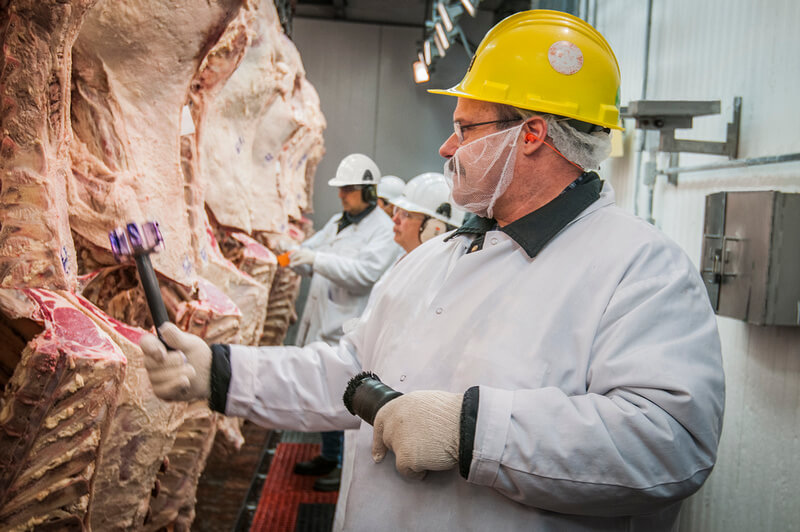 Licensed distributors and exporters
Each year these operators purchase and distribute more than a billion pounds of Certified Angus Beef ® product to businesses around the world. The brand exported 207 million pounds in fiscal 2018.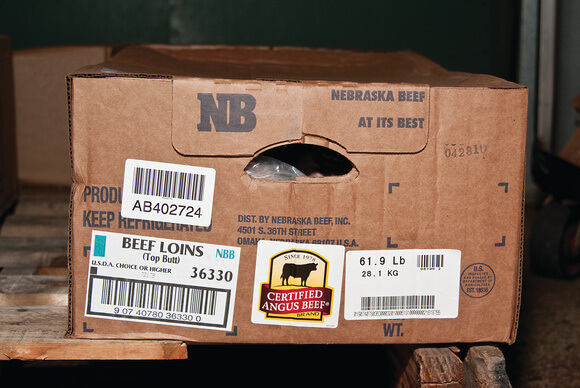 Licensed restaurants/retailers
Nearly 17,000 restaurants and grocery stores market the brand in the United States and 50 other countries, selling an average of 3.07 million pounds per day.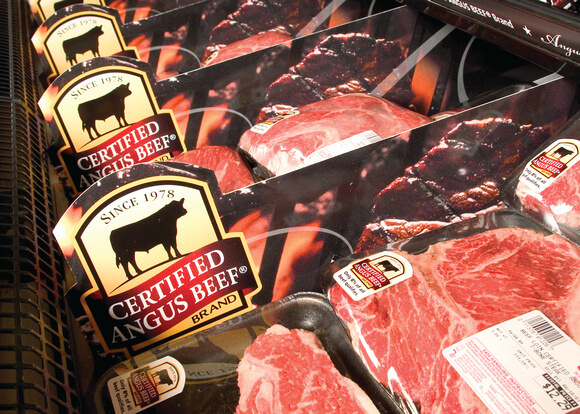 Consumer
The brand generates more than $6 billion in consumer sales annually, meeting the market demands for high-quality beef, which shines even in tough economies.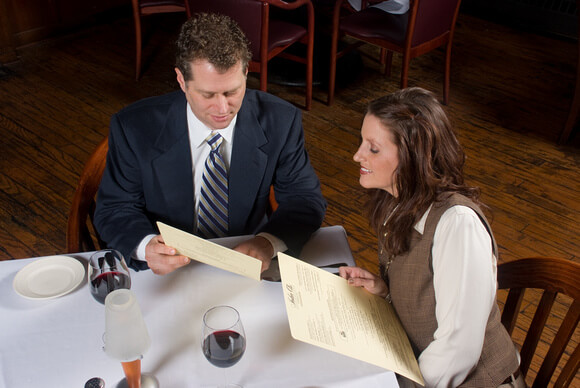 The Brand that Pays®
We know you're not in this business just for the money—but we also know it takes a profit to keep going, and calves that top the market make the lifestyle more sustainable.
Cumulative CAB grid premium rewards for cattle that meet brand specifications are nearing $1 billion. Those annual rewards have grown for six years in a row, still accumulating at nearly $8 million per month, or $92 million in 2019.
That's according to a January 2020 survey, showing the previous year's premium total was the highest ever reported in the survey's 22-year span. In the last two years, 10.8 million cattle have been accepted for the brand, which allowed the nearly 19,000 licensees worldwide to sell more than 2.4 billion pounds.
The Angus price advantage starts early. Another long-term survey shows that since 2008, premiums have averaged $30 per head for 500-pound Angus steer calves and $25 for Angus heifers over non-Angus counterparts at U.S. auction markets. Depending on the market and season, that's been reported at more than $100 per head since then.