Targeting the Brand™
It takes more than a black hide to earn the Certified Angus Beef ® (CAB®) brand logo and the premiums that come along with it. From best management practices to minimum genetic requirements, we've got you covered on what needs to happen at the ranch to leverage the brand and add to your bottom line.
The beef community is data driven, with buyers tracking performance and grade by source. If your calves are consistently topping the auction market these days, you're already on the right track. That's also an indication you can feel confident in partnering or retaining ownership all the way and sell to a licensed packer.
We offer several tools to help Angus producers capitalize on opportunities to capture a portion of nearly $182 million dollars in grid premiums packers pay to producers each year for meeting the CAB brand standards.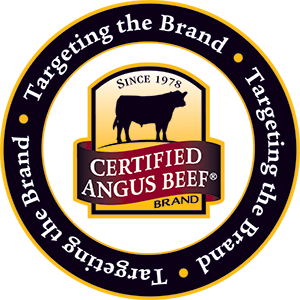 The best beef starts with quality Angus genetics
Our Targeting the Brand™ logo can help you leverage high-quality seedstock genetics or feeder calves to assist customers in seeing the value of their genetic potential. Whether you're marketing bulls that meet our genetic requirements or you're looking for an opportunity to get more for calves that have greater potential to qualify for the brand through AngusLink℠, make the brand work for you.
How It Works
Look for the Targeting the Brand™ logo to identify cattle that meet our baseline genetic recommendations. There are two ways to use the logo: 1) The logo highlights registered Angus bulls with greater genetic potential to produce calves that meet the most challenging specifications of CAB. Only 1 in 4 non-parent Angus bulls meet the Targeting the Brand™ requirements. 2) In conjunction with AngusLink℠, feeder calves enrolled for the Genetic Merit Scorecard can be identified with the Targeting the Brand™ logo if the group meets a 125 grid score or higher.
Chad Barker, vice president of cattle procurement for National Beef, talks about what the current grading trends mean to a packer.
Clint Walenciak, Director of Packing at CAB, discusses the role of processing plants and USDA third-party grading in carcass certification.
Jim Moore, Moore Cattle Company, improved his cow herd by asking questions and applying the answers. He is targeting the brand.