MARKET UPDATE
Prices have been steadily higher in the fed cattle market over the past two weeks, as demand for higher-grading cattle is met with a tighter supply. Although the volume of spot cash cattle trade was relatively small last week it seems clear that higher prices are indicative of packer competition for the higher-quality offerings.
Adding to the narrative of the packers' need to actively pursue quality cattle in the cash trade is the compression of their margins. Fed cattle were $1/cwt. higher last week just as the comprehensive cutout was $1.50/cwt. cheaper on weaker Select and No Roll values.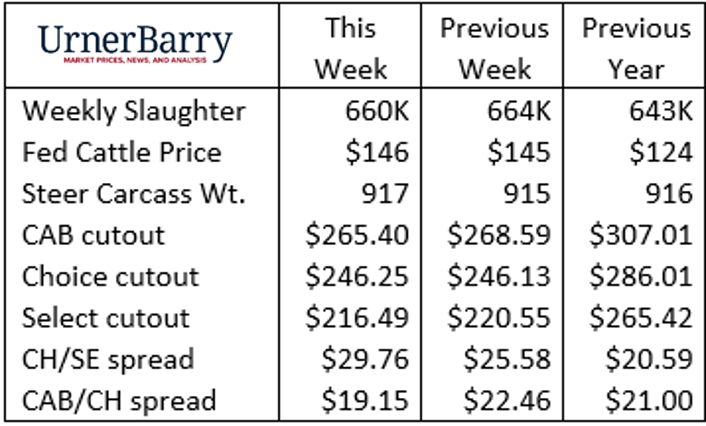 Choice, Prime and CAB (Premium Choice and Prime) carcasses continue to underperfom on the supply side of the ledger. Recent slight upticks in the Prime grade trend finally place those carcasses above 8% of the steer and heifer mix, but still 1 percentage point (ppt.) shy of a year ago. Stating it more clearly, the estimated Prime carcass tonnage two weeks ago was 8% compared to the same week in 2021.
These conditions prompt carcass premium spreads to widen even further than their anticipated fall highs. The USDA reports the average Prime grid premium is currently at $33/cwt., record-high in our database starting in 2006. The CAB grid premium has been slower to adjust, recently moving up $0.38/cwt. to average $5.02/cwt. The highest CAB grid value this week is reported at $10/cwt. by USDA.
The price gap between the CAB and Choice carcass cutout values narrowed by $3.31/cwt. last week to $19.15/cwt. Resting just below last week's value the CAB carcass premium is near it's widest year-to-date. This mid-October spike has proven characteristic in each of the past three years.
Price trends have been mixed across the carcass in recent days with ribeyes and tenderloins receiving expected seasonal interest, largely underpinning cutout values along with chuck rolls and chuck flap meat. Both strip and short loins have also trended seasonally, meaning that they've cheapened substantially to reach year-to-date lows. Beef buyers will benefit greatly by considering the spot market opportunity. Wholesale CAB strip loins are currently pricing at $6.68/lb. versus $9.30/lb. for heavy rib roasts. The price spread between the two may continue to widen in the next week if the trend holds true to past years.
Certified Angus Beef ® Brand Sales Second Largest on Record
At the conclusion of our fiscal year it's exciting to report the rebuilding of CAB product sales following two challenging supply years. The brand recorded the second largest ever sales volume in fiscal 2022 with total sales culminating in 1.234 billion pounds, a 1.6% increase on the prior year. The sum was narrowly below the brand's 2019 record 1.25 billion pounds sold.
Total cattle supply improvement offered a helping hand with CAB licensed packers identifying 16.38 million fed cattle eligible for the brand. That's 70% of steers and heifers meeting the Angus-type live animal requirement, 1.7% more cattle than a year ago.
Lower industry-wide marbling trends have been and continue to be a theme in 2022, slightly depressing the share of eligible carcasses meeting the Premium Choice and Prime marbling specification. Placed in historical context, the 35.5% carcass acceptance rate for the brand is more than double that of 15 years ago, just a step behind the record pace set a year ago. The 1.3 ppt decline in accepted carcasses resulted in a net decline of 2.2% of total certified head count.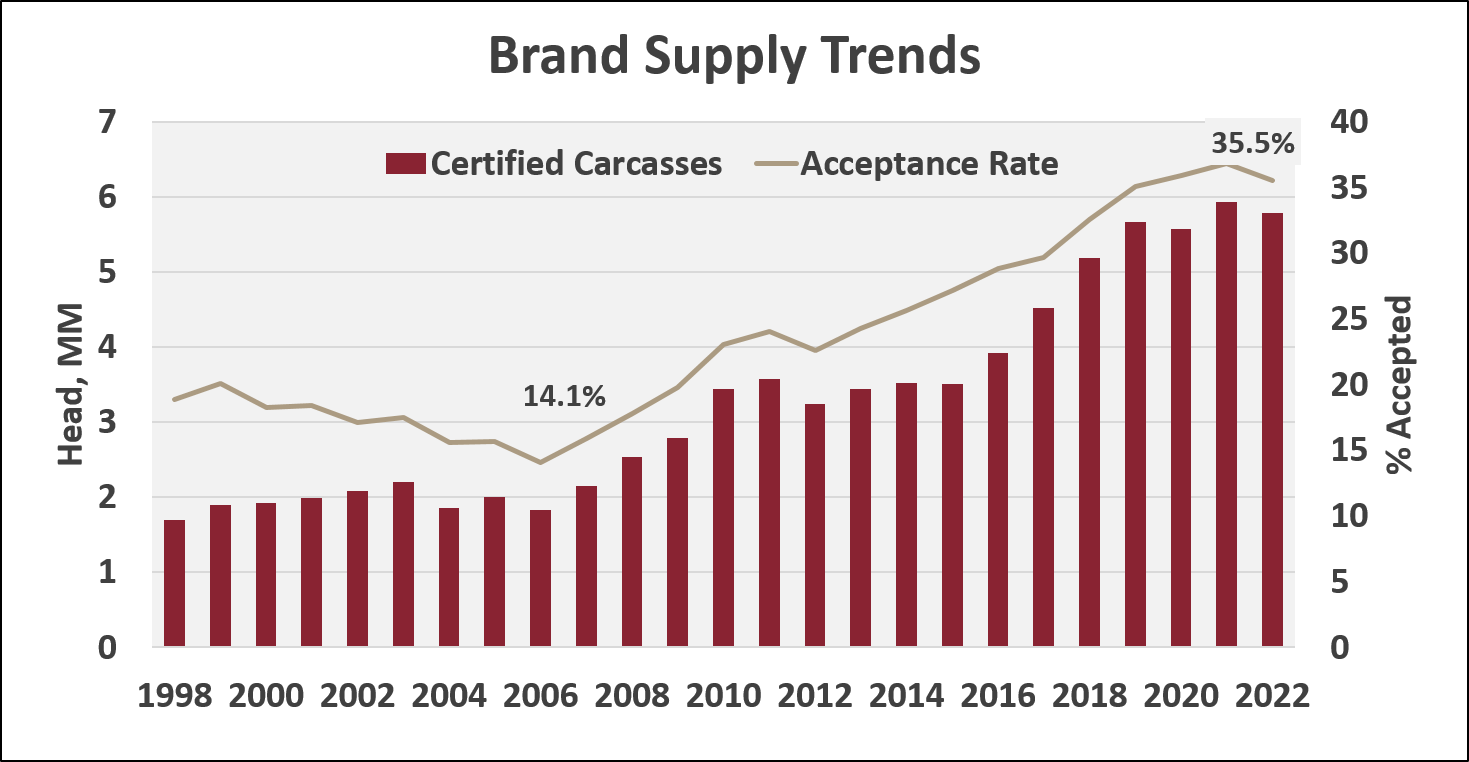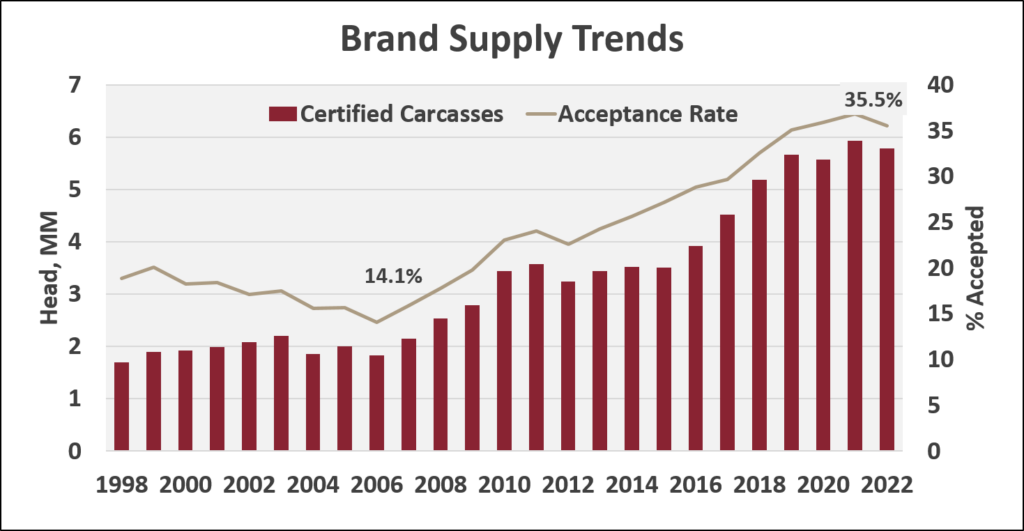 The smaller certified carcass count for the year was more than compensated through increased carcass utilization. Licensed packers stepped up to merchandise 3.4% more pounds of branded product from each CAB carcass for the year to pull the net annual sales volume higher by 1.6% in 2022. This was the brand's seventh year to surpass 1 billion pounds.
Sales of this magnitude are made possible through the 16,000 licensed restaurants and grocery stores featuring Certified Angus Beef ® brand in their beef offering. Domestic sales found a more even distribution in 2022, in similar fashion to 2021, as the restaurant trade normalized and CAB sales grew 10.4% in foodservice.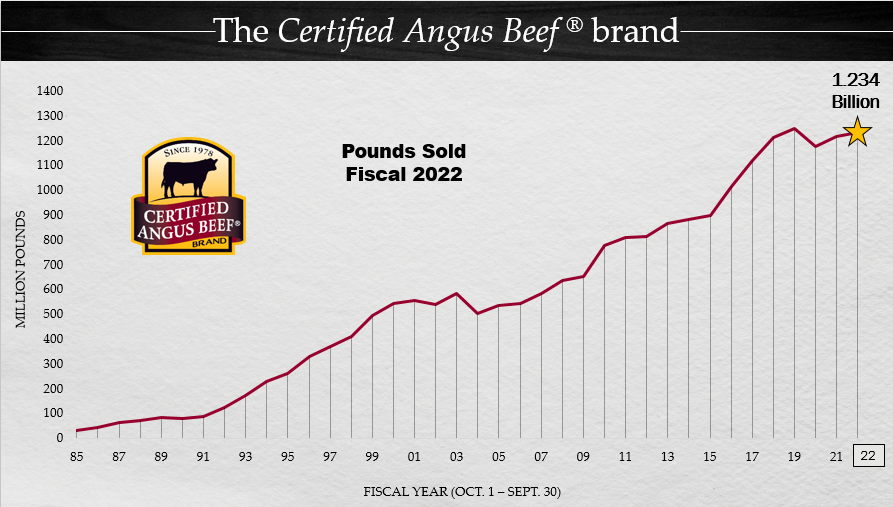 International sales have grown to encompass 53 countries. Highlight export markets in fiscal 2022 included three of the top five markets that each grew by more than 24%, including Canada, Mexico and Taiwan.
The year ahead promises to be challenging with demand certain to be sharp in a consumer market that is driven by taste and quality. There will, no doubt, be times when supplies derived from a smaller 2022 calf crop will struggle to fulfill CAB demand at a pace equal to the year we've just recorded. This spells opportunity, especially through seasonal spikes in the carcass quality price spreads for cattlemen merchandizing fed cattle designed to fit the brand.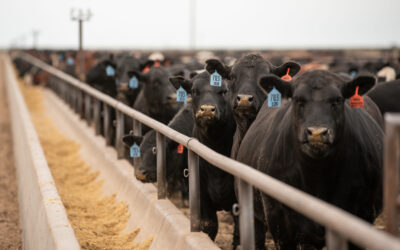 Most recent USDA quality grade data updates carcass grading trends through May 19. This is precisely the week on the calendar at which the percentage of carcasses meeting USDA Prime marbling levels have sharply decreased in each of the past three years.
read more