Crucible for quality
The Taylors win CAB honors
by Steve Suther
September 22, 2011
In this decade, Jimmy and Tracy Taylor's data-driven herd south of Cheyenne, Okla., expanded to its practical capacity of 600 Angus cows on 12,000 acres in 38 pastures. Last year, 315 steers and heifers hit the mark with 58.4% Certified Angus Beef ® brand (CAB®) and CAB Prime.
But months went by without rain while the sun baked the withered roots on the plateau bordering Black Kettle National Grasslands west of Elk City, where the Taylors live.
Heavily supplemented and strategically culled, the top 95% of their spring cows weaned creep-fed calves a month early as the smaller fall herd began making the best of a bad situation.
For all the challenges, the Taylors love it. Having to feed cows on summer grass each day? Great opportunity to check on water, health and head counts while calves get used to a grain ration.
Pastures cut up by old gas-well access roads? Great infrastructure for ranch access. Drought of the century? Brings individual cow evaluation to the forefront as the profit makers get even better.
Silver linings abound, even without a cloud in the sky.
Recipients of the 2011 Commercial Commitment to Excellence Award at the CAB Annual Conference in Sunriver, Ore., Sept. 20-22, they make the best of just about anything. Tracy puts her husband in the starring role, but Jimmy says he couldn't do it without her support.
Dale Moore, Cattleman's Choice Feedyard, Gage, Okla., nominated his customers for three consecutive years. "They base their program on the CAB and Prime goal, and have made some of the most dramatic and positive changes among all of our customers," he says.
The ranch was started in 1914 by Jimmy's great-grandfather, but his father, Jim, was the first to actually manage the place, beginning in 1953. He pioneered intensive rotational grazing with long resting periods for the land.
Hereford cattle were the mainstay, later crossed with Simmentals when Jimmy formed a father-son partnership in 1980. Newlyweds then, the young Taylors learned every rock, ridge and creek before buying sole interest in 1993.
"Our goal was simply to sell the most pounds of beef at weaning," Jimmy says. "Over time, we began to see there is more security for our ranch and for the whole industry if we reoriented to give the consumer a better eating experience. We changed with the incorporation of registered Angus bulls to a goal of producing the best steak we can possibly make."
Those first Angus-cross calves arrived in 2006.
As low-stress handling, a rising plane of nutrition through weaning, selection indexes and artificial insemination (AI) became the rule, the www.CABcattle.com website became a favorite.
That's how they found Moore and began retaining ownership. "I found out real quick that our goals were very similar," Jimmy says. "We've been with him ever since."
They've used the AngusSource® program for genetic and source verification since 2007 and won the regional AngusSource Carcass Challenge with those calves the next year.
Because of the data they have on each animal, purchased females no longer enter the herd.
Information from Cattleman's Choice and CAB, combined with Jimmy's observations and ultrasound scans for intramuscular fat (% IMF) are all organized in Tracy's spreadsheet.
Her report on the 18 herd bulls starts with year purchased, tag number, registered name, maternal and carcass EPDs (expected progeny differences), ultrasound data and $ Values. The cow report/field-data sheet lists cows in ranch-tag order with source, calf tag, Bangs number, sire, progeny carcass history, % IMF since '08, due date, calved date, location, calf tag, sex, sire, pasture bull and turn-in date, plus a few comments columns.
"Over the years we sit down together and keep adapting the program, tweak it until it gives us exactly what he wants to see," Tracy says.
Small pastures let Jimmy match certain cows with the bulls that best complete their genetics.
"We look at them one at a time," Jimmy says. "We're just now getting to the point where data factors in enough to eliminate those weaker in carcass value." They can sort by sire groups, too, and consider sire effect on progeny from each cow.
"Jimmy calls off a number and I read out to him what she has done," Tracy says. "It's kind of tedious, but he's building up a good herd this way. Good genetics that we know we want to keep. That's why he's supplementing instead of selling." Winter pasture was secured in Nebraska as well.
Creep feeding was an innovation last year, a necessity in 2011. For weaning, the herds come into corrals adjacent to the trap rotation for what seems like just another supplement session, but the calves get shots to booster the May round of vaccines and cows go back out to the rotation.
"We watch the calves for four or five days and then they are turned out on the traps, too," Jimmy says. "It has worked well for us."
Part-time help fills in for big jobs like working calves, weaning and AI, but otherwise, the Taylors run a "ma and pa" ranch, where they're in it together. Just another way they show that commitment.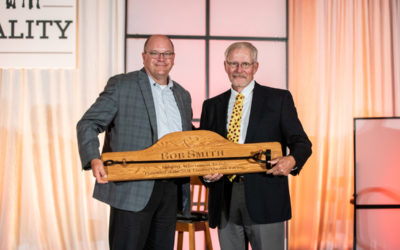 The hands of a veterinarian hold the life cycle of an animal in their care. The mind, however, directs the hands. Anyone who's met Dr. Bob Smith knows the way he thinks is something else. It's come from more than 30 years in the industry caring for its people and cattle. It's why he earned the 2021 Industry Achievement Award.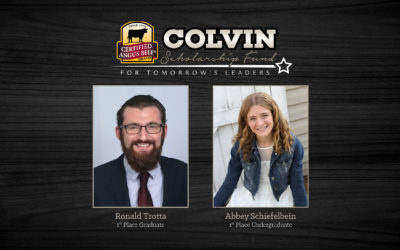 Tackling the variety of challenges and opportunities in the beef supply chain are talented young leaders paving a path for the future. Certified Angus Beef recognized 10 undergraduate and five graduate students with bright ideas for making the best beef, even better.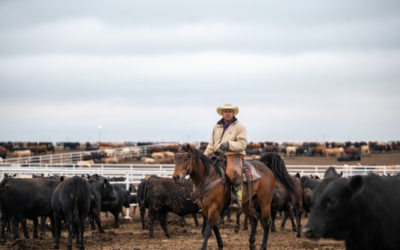 Not every ranch, pen or feedlot is alike or ideally suited to handle the same class of cattle.  Here is a 12-point checklist of ways cattlemen can help themselves when selecting a feedyard.