Larson Angus Ranch Earns Certified Angus Beef Seedstock Award
by Morgan Boecker
September 29, 2022
An unanswered prayer led Dan Larson back to the ranch. He and wife Becky stepped away from their dream life of horse training for a new calling, to build the best Angus herd they could.
Economics and a newfound passion brought on years of studying genetics and the Angus Journal to where Larson Angus Ranch, Sharon Springs, Kan., now manages 800 cows. Since 2007, that's been with the help of their son Brady along with his wife Kyla, bringing up the fifth generation on the land.
Cow work, genetic improvements and breeding plans are on the table for hours because building the perfect cow takes continual adjustments. The Larsons are making moves that bring their families and customers closer to "best" every day.
"It's one of those things that you just constantly build on," Brady says. "You're never gonna get the perfect animal, but you just keep building on it and build on it and build on it."
Their determined journey toward elusive perfection helped Larson Angus Ranch earn the Certified Angus Beef (CAB) 2022 Seedstock Commitment to Excellence award presented at the brand's Annual Conference Sept. 29 in Phoenix.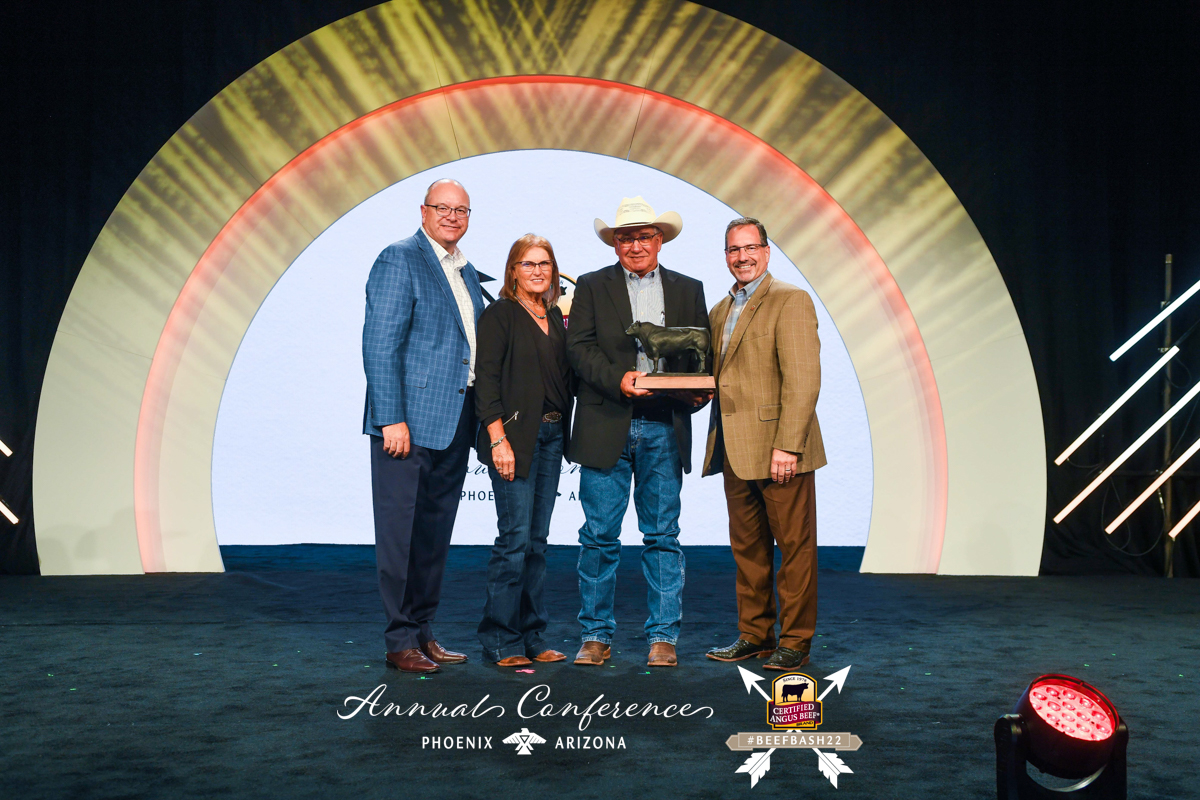 Spanning rough, rocky terrain along Ladder Creek, the ranch fills a niche next to farm country.
"We're turning grass pastures that can't be farmed into a high-quality protein source," Dan says. "We can count on our Angus cows in this region. They work hard for us for 10 or 12 years and produce calves that have a lot of vigor."
The Larsons like medium-frame cows with moderate milk production, good udders, calving ease and sound feet to travel. Fertility and carcass merit are non-negotiable.
They adopted artificial insemination (AI) in 1989 and within a few years started using embryo transfer (ET). That inspired Brady to pick up custom AI through ABS Global to keep him even busier during breeding season.
This year, they put in 150 embryos and as usual allowed cows one chance with timed AI. Whatever doesn't stick gets another chance with the turnout bull.
"We don't do it on a huge scale compared to other people," Dan says, but ET work figures into most of the 100 bulls they sell each March. "This really helps us speed up genetic progress."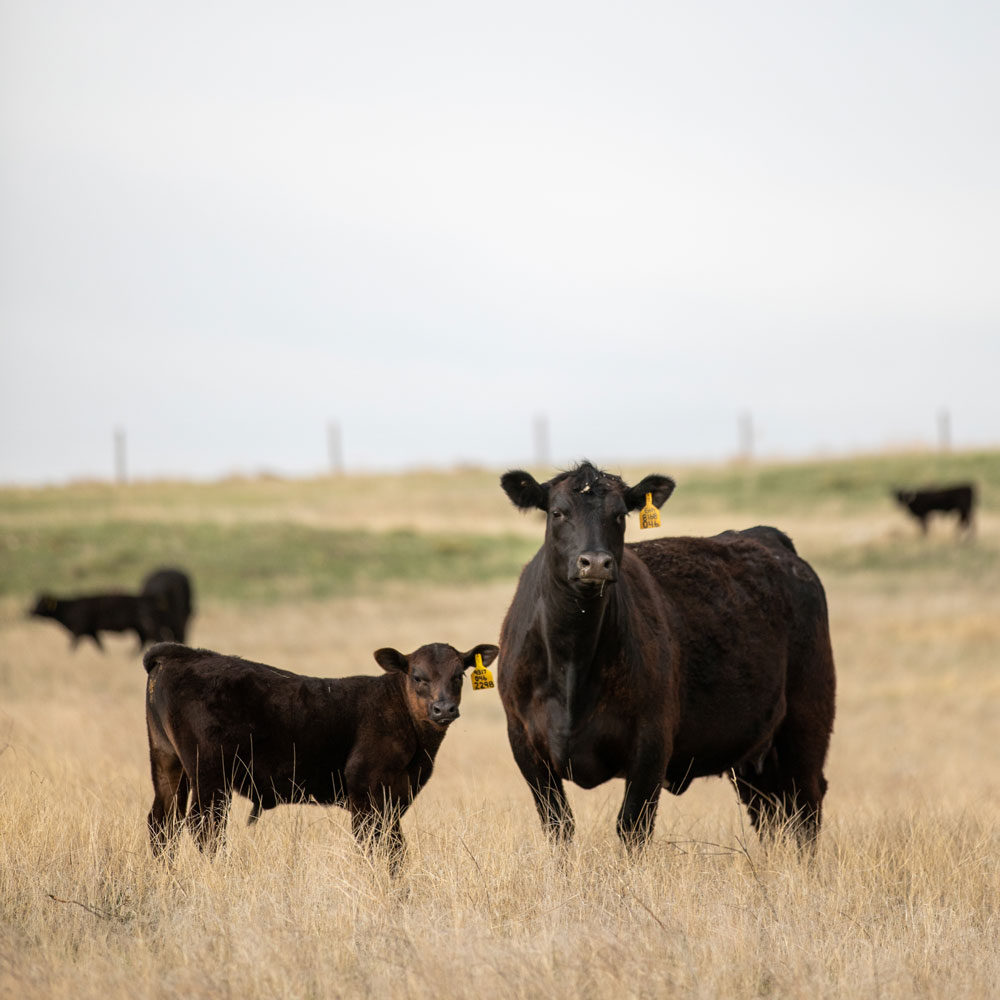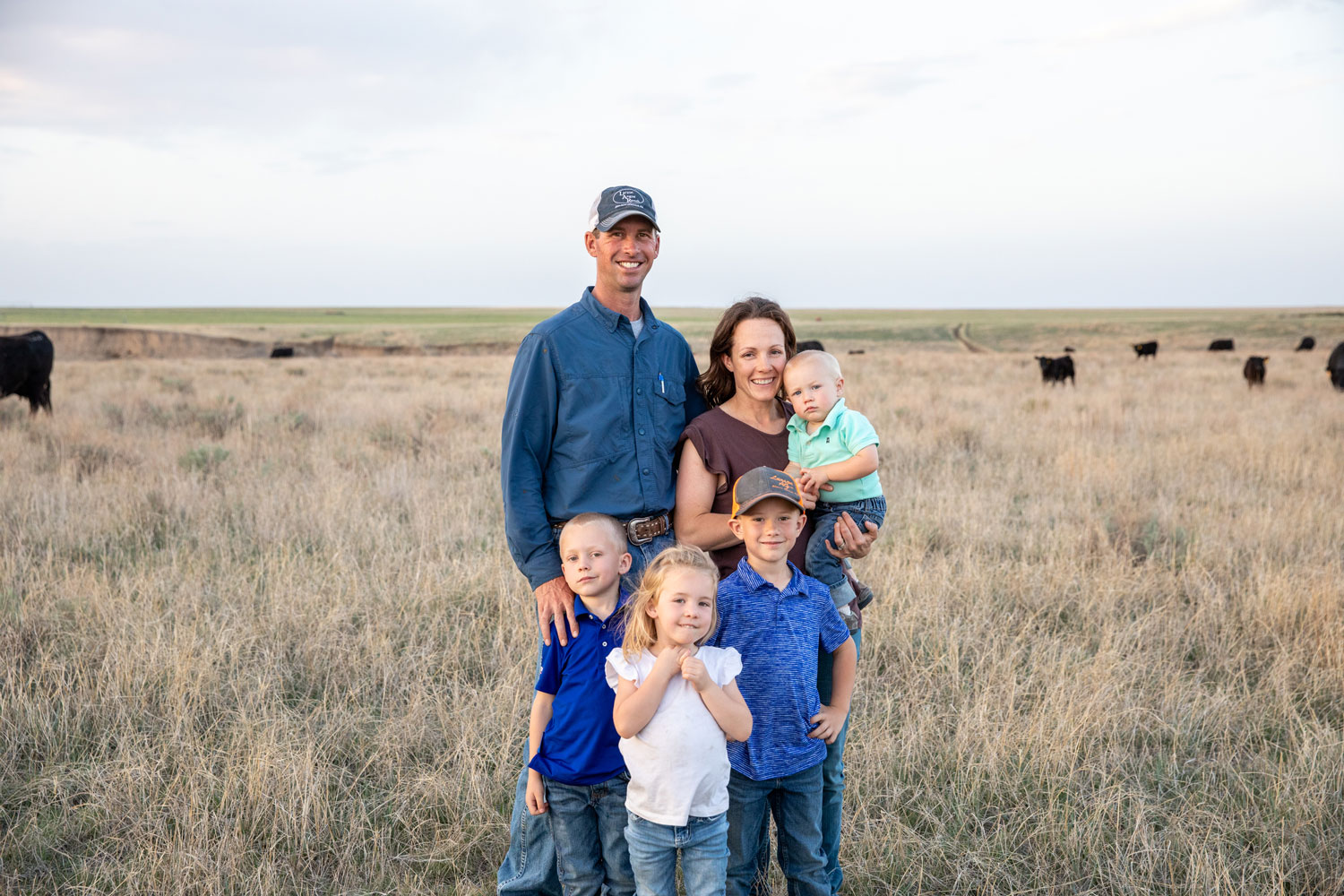 The Larsons have the same priorities as their customers. Only the top bulls make the annual sale and the best heifers become replacements while they finish the other 600 in their own feedyard to market through U.S. Premium Beef.
"Our customer base is not just selling calves at weaning, though some of them do," Brady says. "We've got a lot of customers that come to us because they want to put their cattle on a grid and make extra money."
"Our goal was to get 100% Choice and years ago we got to that," Dan says. "Then we tried for 100% CAB and we reached that goal. Now we're feeding groups of cattle that grade nearly 80% Prime and dress at 64%."
Hitting the mark means the cattle have to excel across all EPDs and look good doing it, Brady adds. It's a balancing act to dance among the relevant traits.
Brady and Kyla hope to pass that way of thinking on to their four kids, sustaining and improving the water, grass and cattle so that each day they're getting better. 
Whether riding along in the Ranger to check cows, water or put out minerals, the kids are learning by example.  
"Sometimes I wonder how far we'd be if ranching had been my plan A," Dan says. His sights are always on the future, looking for better ways. With his family and that outlook, they'll keep improving their best.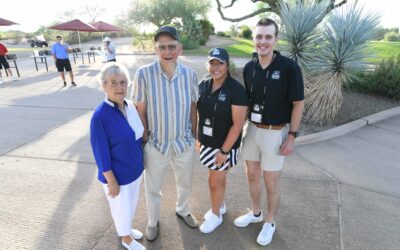 Over the last 22 years, Certified Angus Beef has awarded $418,500 in scholarships through the Colvin Scholarship Fund. While that number has had a positive influence on many students, this year held a few extra special moments for the fund: the addition of a third category to support more education paths; a record-breaking dollar amount awarded; and the highest donation support ever from partners at the 2022 Annual Conference.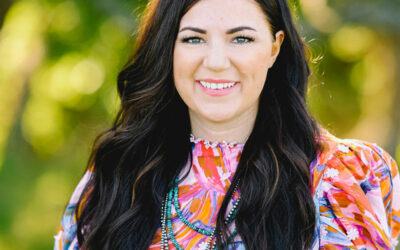 Genetics and management are at the forefront of targeting the Certified Angus Beef ® brand but communicating beef value propositions to cattlemen guides informed business decisions. To bring the most relevant production and economic information to cattlemen, CAB hired fifth-generation rancher Lindsay Graber Runft as director of producer communications.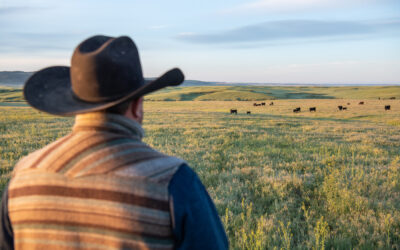 With ranchers continuing to produce high-quality beef at notable marks and consumer demand staying strong, Certified Angus Beef closed its books on the second-highest sales year of record. The brand's success is a reflection of an entire community pointed toward providing premium beef, starting with steady supply.