MARKET UPDATE
Fed cattle prices are finally on the top side of $150/cwt. with last week's six-state average $151/cwt. paid for steers. It has been a long upward grind to this point, but the past two weeks have displayed a little more excitement with a small amount of trade in the north as high as $155/cwt.
Daily fed cattle slaughter volumes have proven to be workable for packers in the 100K head range, with two days at that level to start last week. Wednesday and Thursday each touched 99K head followed by Friday's smaller 96K head. The faster weekday pace has allowed packers to reduce Saturday totals. The most recent total of 21K head is the lower end of the range we've seen this fall.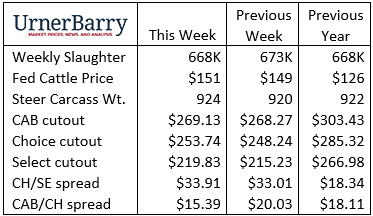 Carcass cutout values moved higher in last week's averages. The Choice cutout was up $5.50/cwt. and Select up $4.60/cwt. The Choice/Select spread hit $33.91/cwt., effectively adding $89.52 per head to Choice carcasses above the cash market average, which is calculated on a generic 70% Choice packing plant average.
The CAB/Choice spread narrowed to $15.39/cwt. as the CAB cutout increased just $0.86/cwt. on the week. The wholesale Prime carcass cutout premium above Choice dropped to $86.44/cwt., down from the record $92.21/cwt. just three weeks ago.
As we analyze these spreads it's obvious that Prime middle meats, the primary source of Prime product sales volume, are commanding premiums into the stratosphere. This pulls the traditional, Premium Choice CAB® brand product into focus as it's more widely available and affordable within the premium end of the market.
Turning the calendar to November, it's no surprise that CAB ribeyes are on an upward pricing pattern, gaining 7% in three weeks. There's likelihood for more upward pressure in the thinly traded spot market moving forward. A large volume of holiday ribeye purchases has already been done with product placed in "nearly frozen" refrigeration. The current ribeye price pattern is much more aligned with historic seasonal norms than the 14% higher wholesale price seen a year ago.
Tenderloins, on the other hand, are trading at record highs for the current timeframe, spiking 24% in spot market price in the past four weeks. Meanwhile, strip loins are following the seasonal price pattern fit perfectly to the prior three years. Strip loin prices tend to decline sharply from late August through early November. Strips are down 28% since August, most recently at a wholesale bargain of $6.68/lb., the lowest price since January 2021.
CAB Refines Hot Carcass Weight Specification
Through a consistent premium beef experience, the CAB brand provides economic incentives to cattlemen up and down the supply chain. The brand's commitment to aggregating winning outcomes is reliant on the relevance of the brand's carcass specifications to each sector of the beef industry, and ultimately the consumer. This commitment to evolve as the overall industry progresses has resulted in the brand's recent adjustment of the hot carcass weight (HCW) maximum to 1,100 lb.
Historically, fed cattle carcass weights have increased, on average, by 5 lb. annually. As well, economic conditions in the production sector suggest that the trend for heavier carcasses is likely in place for the foreseeable future. The brand's HCW adjustment means a potential increase of 3 to 4% of carcasses accepted into the brand. Its additional specifications remain an important parameter in continuing to address optimal final product cut size.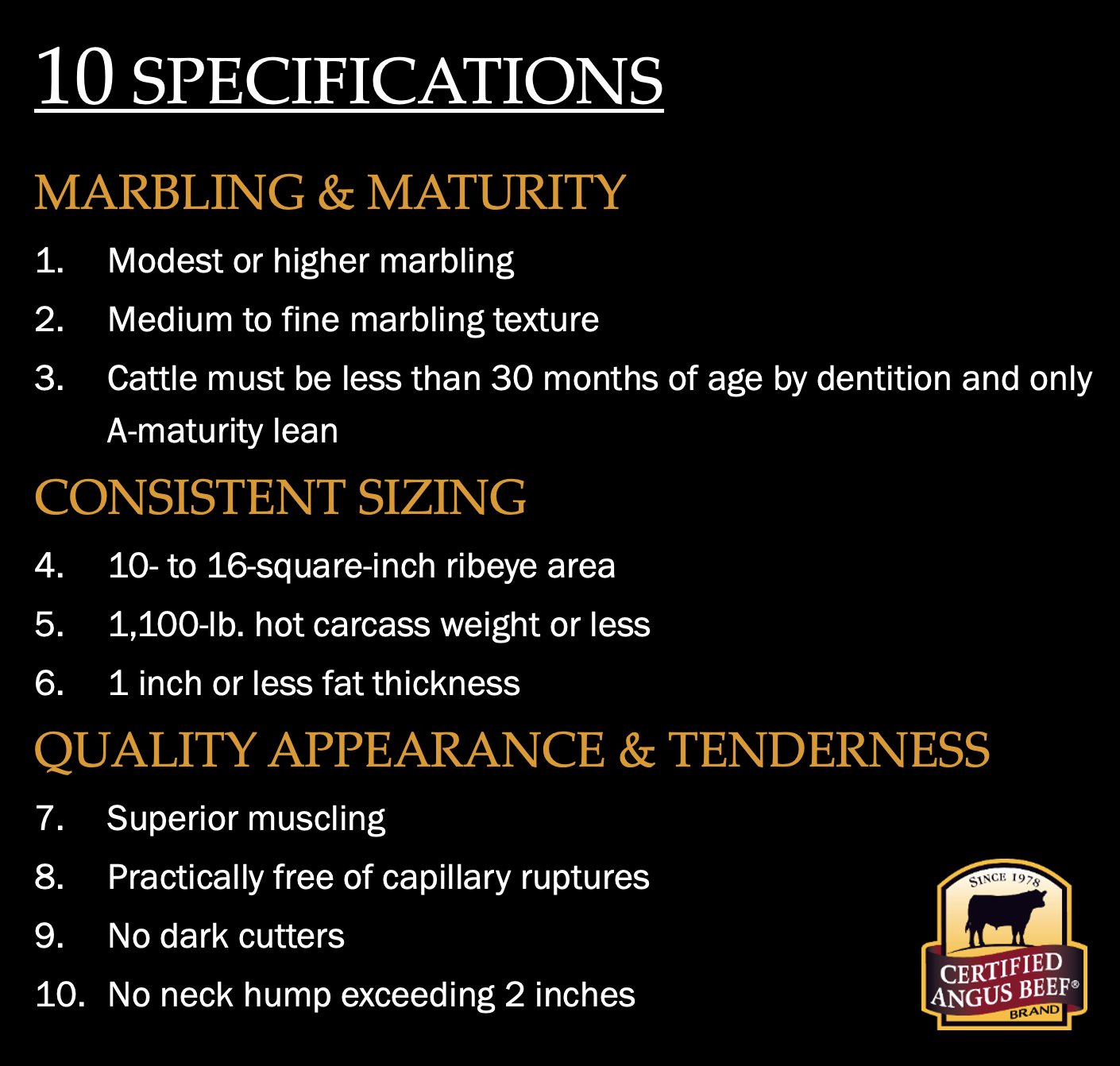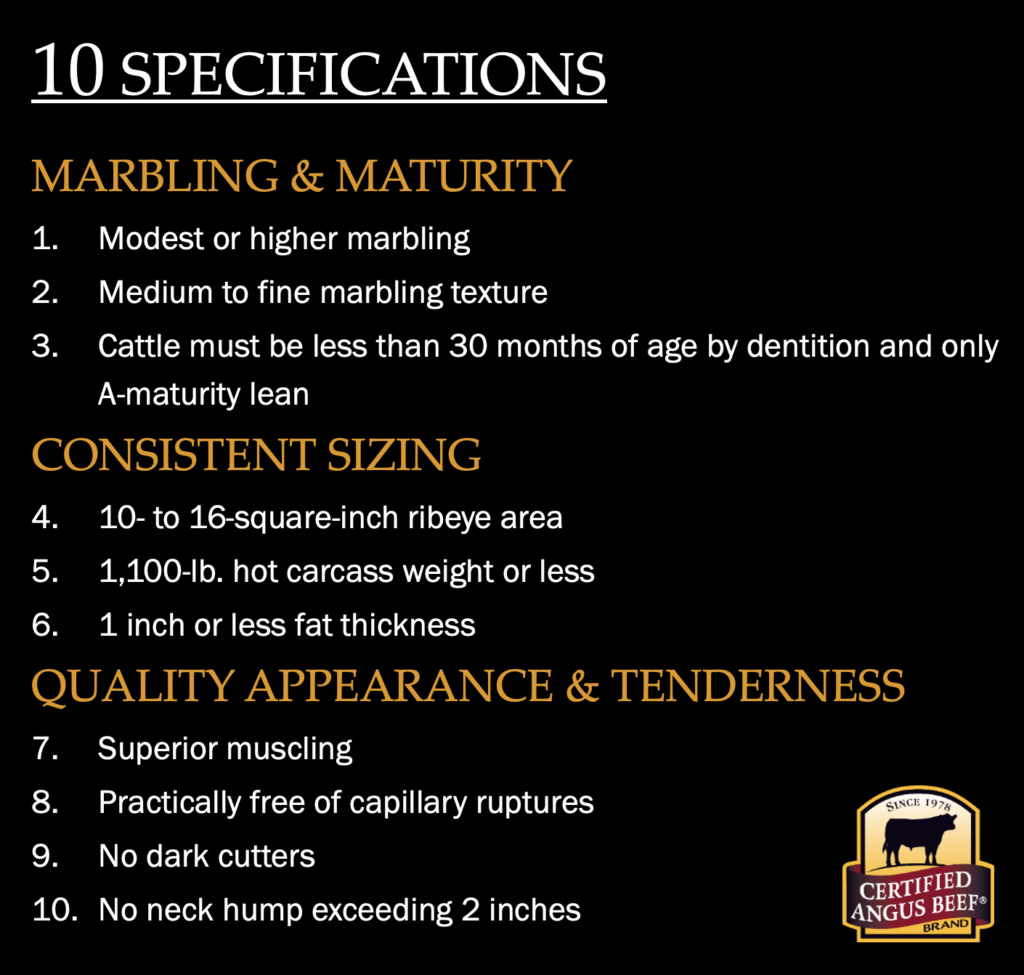 While this weight adjustment is reflective of the industry trend, it's not prescriptive to cattlemen. Cow-calf producers have long been progressive in seeking genetics to improve production efficiency in a few different ways. Upticks in pre- and post-weaning growth traits are reflected in heavier finished cattle and subsequent carcass weight trends, supporting terminal efficiencies. At the same time, cow-calf producers are tasked with balancing maternal efficiency needs at the farm or ranch. No doubt Angus breeders and commercial cattlemen will continue to seek the optimum mix of the two.
The carcass weight limit change was implemented by the USDA and Canadian Beef Grading Agencies on October 31. This update will impact supply through improved product availability in a high-demand market while cattlemen will benefit through more quality-rich cattle deservedly rewarded.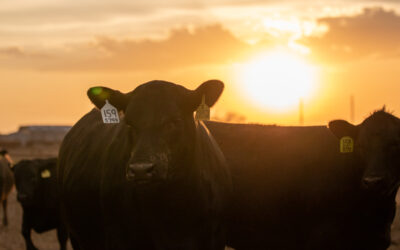 Feed cattle carcass weights have tracked a decidedly lower course this winter with the steer/heifer mix 18 lb. lighter since January 1. Winter weather has left a lasting mark on feedyard performance this season as feed efficiency has slipped away and industry production pounds followed lower.
read more