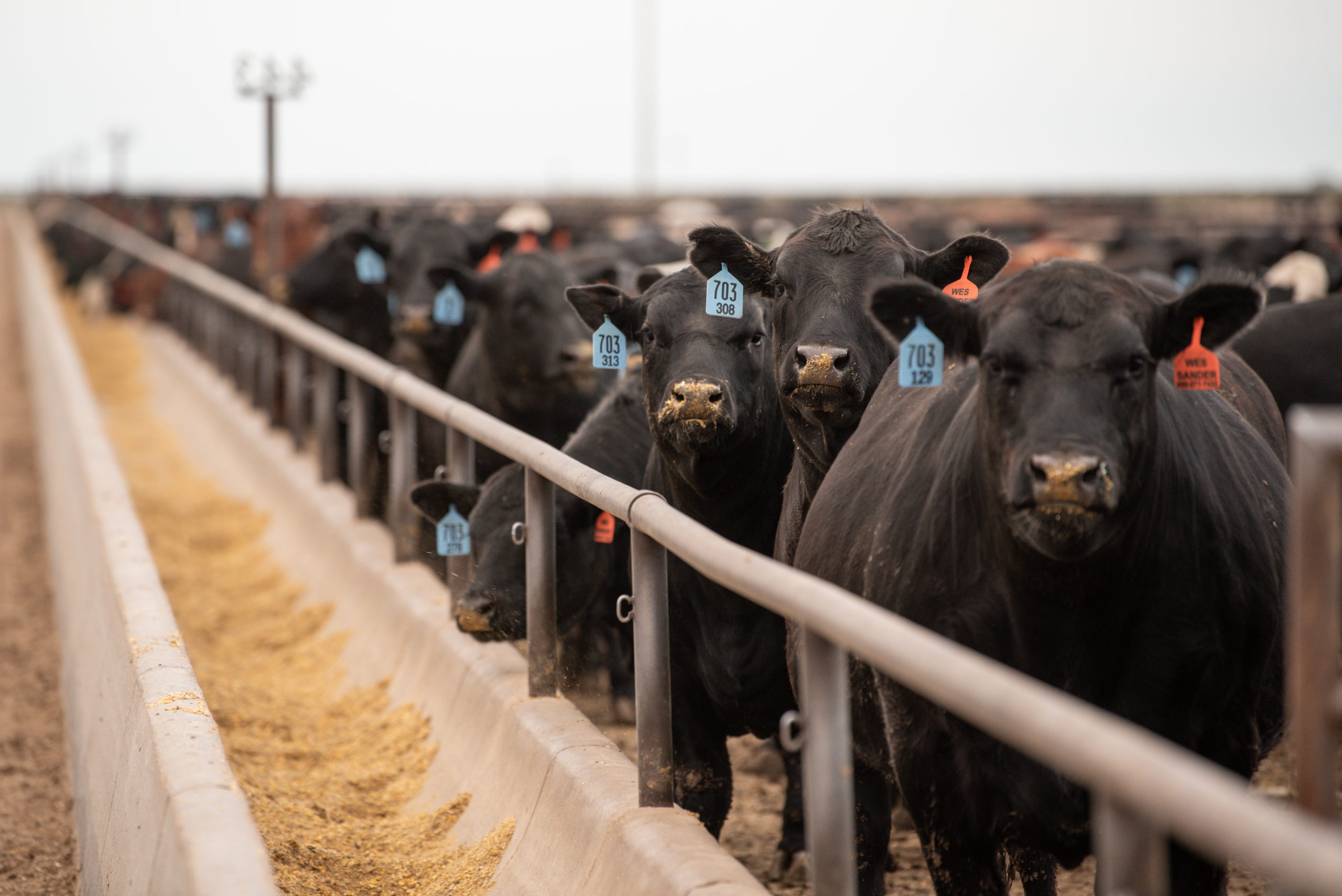 MARKET UPDATE
The fed cattle market has been in a steady decline since the first week of May when the USDA live steer average price was just over $143/cwt. The decline to last week's $139/cwt. is not uncharacteristic of a May market, as the 2020 May trend skews the 10-year average with its $19/cwt. rally amid pandemic chaos. That year aside, 6 of the other 9 preceding years featured a lower fed cattle price at the end of May.
We discussed the oversold condition of the June Live Cattle in the last Insider, and that has only grown in the past two weeks. Particularly as the calendar turned to June, we saw last week's cash fed cattle price at a $9/cwt. premium to the June board.
This Tuesday, the June contract was hit hard with a $1.57/cwt. decline even as boxed beef cutout prices strengthened.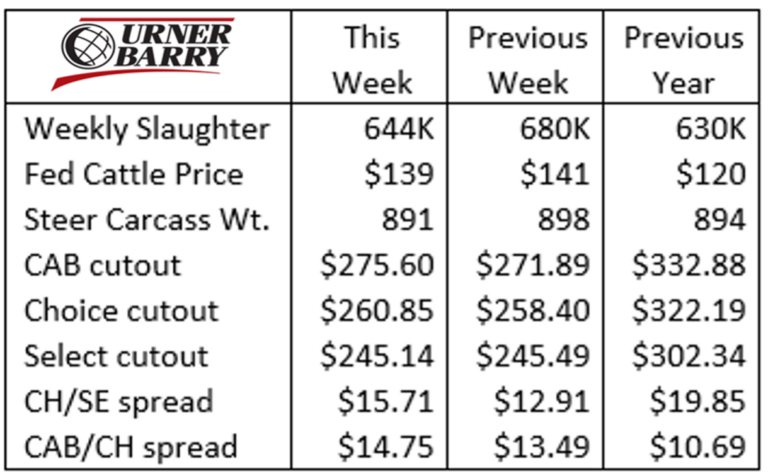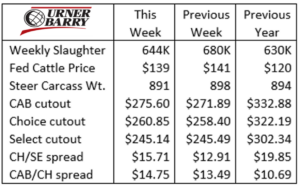 Fed cattle fundamentals point out the larger finished cattle supply in June as a cloud hanging over the market. On the other hand, carcass weights in the latest USDA report for the week of May 9th show a large 7-lb. drop for steers and 10 lb. lighter on the heifers. This suggests currentness has picked up in the fed-cattle sector.
Packers have had an appetite to keep daily processing levels quite high with 680K head of all federally inspected slaughter. That resulted in 534K head of fed steers and heifers, the largest this year by 14,000 head. Last week's much smaller production was only due to the holiday weekend that limited the Saturday business to just 18K head. The slaughter pace has been very strong lately with two 99K-head days of fed cattle within two weeks, the largest we've seen since the pandemic onset and packing sector slowdown.
CARCASS WEIGHTS BELOW YEAR AGO
Carcass weights are always top of mind for us in spring as we try to keep buyers and sellers in the cattle and beef markets informed on quality carcass supplies and price implications. This heightened focus is a function of carcass weights tending to find their annual lows in May.
Moreover, through the pandemic fed-cattle backlog and the trailing effects of slower plant processing speeds, we've seen carcass weights reach new records. Expectations that the year-on-year increases in carcass weights would abate in early 2022 were not satisfied. In fact, weighted average steer/heifer carcasses in 2022 have only been lighter than 2021 in four individual weeks. So far, this year's weights have been 7 lb. heavier than 2021, 15 lb. heavier than 2020 and 38 lb. heavier than 2019.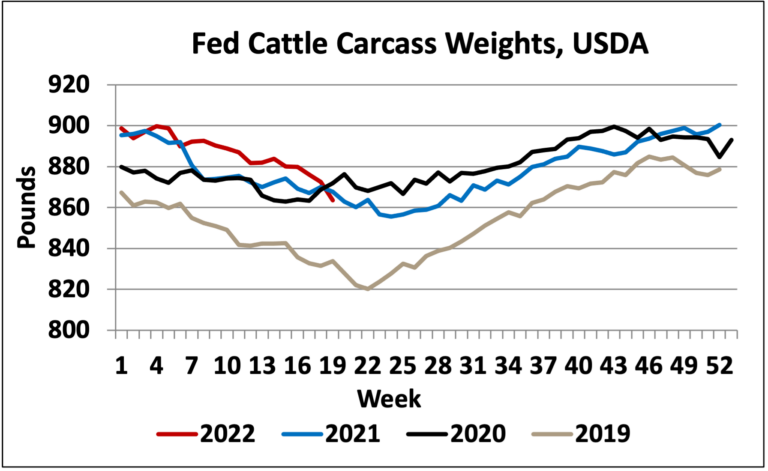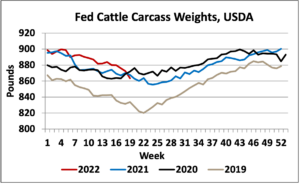 However, the latest data show an abrupt turnaround in the heavier annual carcass weights. March featured carcasses roughly 13 lb. heavier than a year ago, but since the week of April 18th carcasses quickly realigned the trend to reach 4 lb. lighter than a year ago in the second week of May. This latest week in the data indicates a 10-lb. one-week drop for heifers and a 7-lb. drop in steer weights.
This scenario reflects a culmination of several weeks of underperforming cattle in the northern feedlot region with respect to carcass quality grades. Feedyard placement data had suggested that market-ready cattle would be less numerous through April with a transition to larger supplies beginning to show up in June. May was logically the transition month, but so far it looks like the lighter weights and poorer grading in the past month portray a market that remains very current, at least in the north.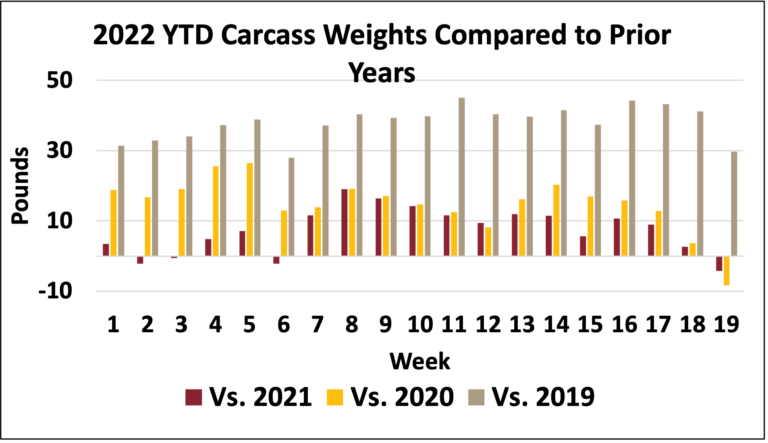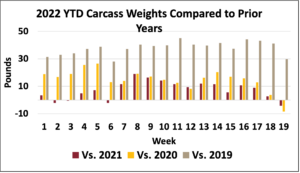 The bottom line for now: most recent slaughter data suggests carcass weights and market-ready cattle are not burdensome. This applies more as we look at the northern feeding region. As well, we're even more confident today that near-term quality grades will be challenged to keep up with the past two years. The elevated ration costs and continuing positive cash basis entering June only confound the issues. Although we've covered those factors in recent editions, it's timely to reiterate the facts: Carcass quality premiums widened last week and will likely continue to do so as they meet seasonal expectations, presenting premium opportunities for cattle that can surpass average quality.
HEIFERS SURGE IN FED CATTLE MIX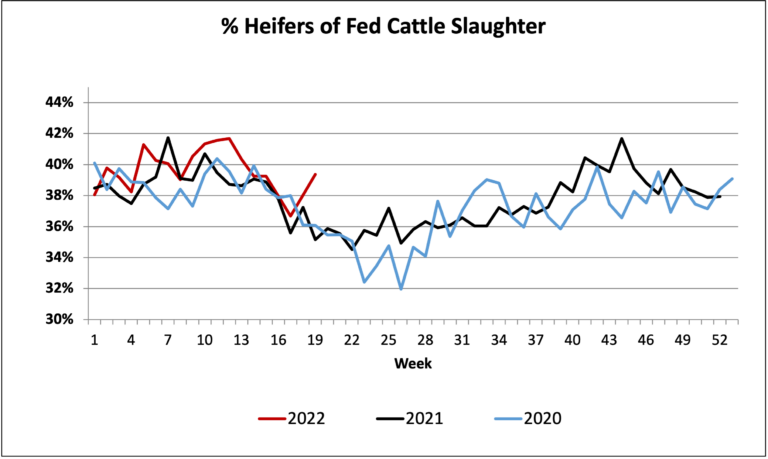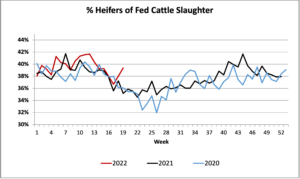 Heifers in the fed cattle slaughter surged to 39.4% of the total for the week of May 9th, a 1.4 percentage-point (ppt.) jump from the prior week. That's not unusual for other months, but it is uncharacteristic for early May. The last two years indicate heifers at an average of just 35.5% for the same week. The comparatively larger number of heifers in that week's 2022 data came with a 10-lb. decline in heifer carcass weights. That made for a greater-than-expected impact in pulling average carcass weights lower. Year to date, the heifer count is up 2.5% while steers are down 1.9% in the slaughter mix. That's just further indication of heifer liquidation rather than retention in the herd for breeding purposes.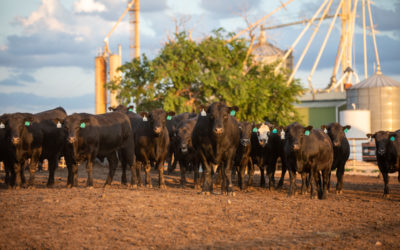 Closing out the month of June the boxed beef pricing complex typically undergoes a directional change. However, given the economic anomalies in place this year, cutout values will finish June a bit stronger than in recent years, measured against mid-May prices.
read more