Annual Quality Grade Low Marked
Market Update
The fed cattle market continued higher again last week, after clawing its way out of the deadlock in the low $120's for multiple weeks. The $133/cwt. resulted from the largest negotiated cash trade week this year, with the top of the market at $135/cwt.
The more aggressive buying packer behavior suggests there is a shortage of market-ready cattle, but overall the number of cattle on feed for 150 days or longer is larger than a year ago at this time. A closer look at the numbers on a regional basis shows that Nebraska, Iowa, South Dakota and Minnesota feedlots have fewer long-fed cattle, while Colorado, Kansas and Texas show larger numbers of 150+ day cattle.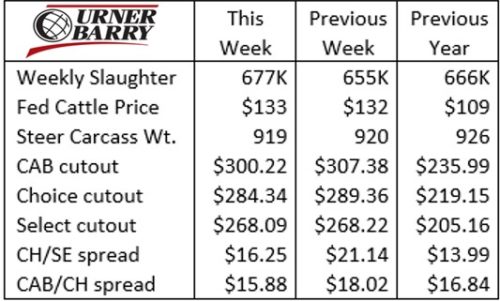 Last Friday's Cattle on Feed report shows Nov. 1 feedlot inventories at 103.9% of the previous five-year average, yet 0.2% smaller than a year ago. This suggests ample head counts near the top of the range for this time of year.
With the above factors taken into account, one might question the reason for a stronger fed cattle price trend. Rightfully so, especially given the weaker cutout values in the Urner Barry report last week.
Packers have margin to spread back upstream to the feedlot sector at their discretion, and it appears that their need to fulfill orders for high-quality product for upcoming holidays is likely a motivating factor. The higher-than-average quality grade trends in the northern tier of the feeding sector, combined with those northern states showing tighter supplies of longer-fed cattle, suggest packers are needing to compete to own the quality, harvest-ready cattle.
The boxed beef trade is shaping up in what has turned out to be rather predictable fashion given all that we know about the last three months of pricing. The downturn in cutout values we've seen these past few weeks is unseaonally weak. Yet record prices are often too high to sustain for long, and that seems to be the case this November.
Certified Angus Beef ® rib prices were slashed last week, with the rib primal down $29.37/cwt, accounting for about half of the total decline in cutout values. On the other hand, tenderloins were pricing higher and seeing a more typical increasing seasonal trend.
Briskets are the most dynamic item in the recent price quotes, with the CAB brand briskets at $4.25/lb. versus $2.35/lb. a year ago. Briskets are popular in many respects throughout the year but processors are likely taking on inventory to ramp up for corned beef needs in March. As well, briskets are one of the carcass items where "piece count" means more than total pounds available.
Heifers Topping Out in Fed Slaughter
The proportion of heifers versus steers in the weekly fed cattle mix is a key indicator of trends in U.S. beef cow herd shifts. As a general rule, when the share of heifers in weekly slaughter totals surpasses 36%, the beef cow herd is considered to be contracting. The converse of this, of course, is that when this measure dips below 36% the cow herd is expanding. It's most useful to look at this percentage on an annual basis, rather than any single week or month, given that management and age differentials in cattle shift the numbers higher and lower seasonally.
USDA annual cow inventory reports show that following the drought-induced liquidation between 2010 and 2013, beef cow numbers recovered from the period low of 29.1M head to 31.7M head at the conclusion of 2018. Cyclical contraction since then, due to a lack of profitability in the cow-calf sector and recurring drought in the west, has been pulling cow numbers lower again. Acceleration of the downward trend in 2020-2021 has been fueled by the backlog of fed cattle, pressuring profits in all cattle production sectors, plus the widening of drought-impacted areas to include more of the northern, high density cow-calf states.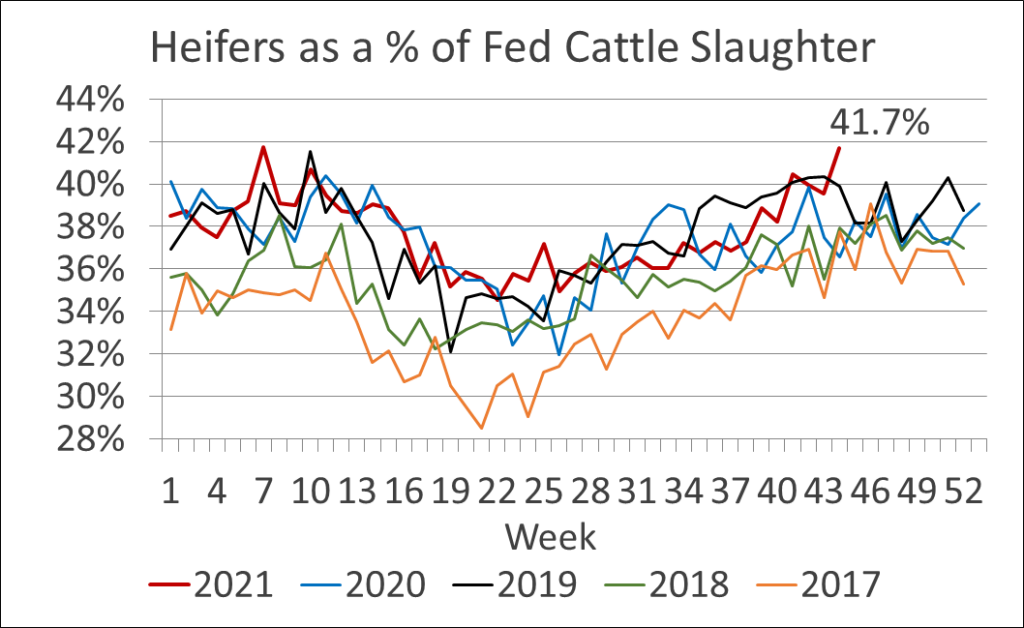 Looking again at the heifer proportion of the fed cattle mix, the chart shows last week's heifer share at 41.7% of the total. This matches this year's annual high marked the week of Feb. 7. We expect to see a seasonal peak in the heifer slaughter percentage in Nov., as can readily be seen in the chart. In recent years, the fall high in the heifer percentage has not reached the spring high of the same year.
One could guess that last week's heifer surge broke higher than we'd normally expect due to drought conditions culminating over the past two years. Producers likely pulled their heifer retention lower a year ago due to their forecast for either tighter feed supplies, lower cow-calf returns, or both. Many of those liquidated heifers went into yearling grazing management to be harvested this fall. As well, very early culling of confirmed "open" heifers were placed on feed mid-summer of this year. We're beginning to see the earlier placements of these heifers harvested now. Finally, deeper culling of potential replacement females in fall-calving herds are also on schedule to be harvested, depending on weaning schedules and post-weaning management.
Recovery of cows in states dense with cow-calf numbers will only respond as quickly as economics and feed resources allow. Yet, most recent market signals and cow herd contraction suggest producers own more cow inventory moving into the upcoming few years. Higher feed costs across the board argue against higher calf values, since costs of gain have increased dramatically in the feeding sector. But a more balanced alignment of packing sector capacity and fed cattle supplies are pointing toward better feedlot leverage, and consequential cow-calf leverage amidst fewer cattle supplies.
Annual Quality Grade Low Marked
The fourth quarter, historically, is unique in the beef business because there are several factors that have a strong seasonal tendency. The degree and timing to which each of these factors occur are often the difference between hitting the home run or just a base hit. Examples that come to mind are increased boxed beef prices, increased fed cattle prices, increased carcass weights and decreasing quality grades.
Speaking of quality grade trends, the seasonal trend is taking shape currently. In general, we tend so see carcass quality grades decline from early Aug. to early Nov. There is some variation across years, as seen with the departure from this trend in 2018. But if we were to build a marketing plan with "% Choice and Prime carcasses" as a key element, we'd pencil in a lowering trend along this timeline.
In recent weeks, carcass cutout value spreads between quality grades (including the CAB brand) have followed expectation with heightened fourth quarter demand and smaller supplies of marbling-rich cattle.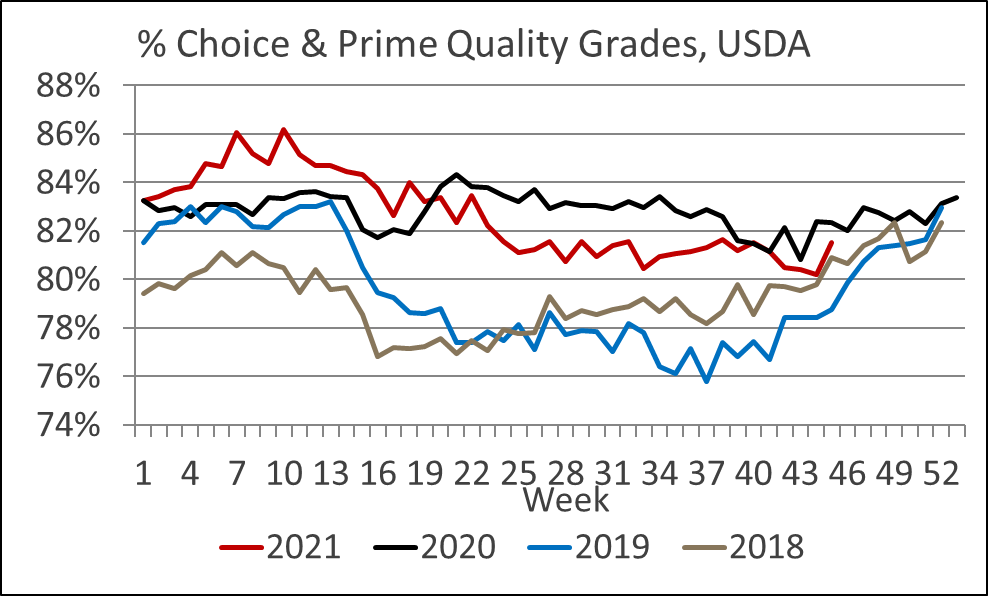 It appears that the fall lows for quality has been placed in the chart with the combined Choice and Prime grades comprising 80.2% of the fed cattle grade-out two weeks ago, followed by a slight increase to 81.5% last week. Texas packers accounted for the big increase of five percentage points to bolster the upward move.
CAB brand carcass acceptance rates tend to follow the grade trend this time of year, given the amplified importance of at least upper 2/3 Choice quality grade in the brand's 10 carcass specifications. It looks like we saw the fall low the last week in Oct., when 32.8% of eligible carcasses qualified, just a fraction below last year's record-highest seasonal low point for the period.
From now through March, we should build a summarily higher quality grade trend as we continue to harvest yearling cattle. Of course, quality price spreads generally narrow once holiday beef buying drops off in early December, at the same time the quality mix of carcasses is on the increase. From a cattle feeder's perspective, marketing decisions are longer term as far as what kind of cattle to buy, but the first quarter doesn't tend to reward marbling to the degree seen the rest of the year. Based on the past 18 months or so, it's unwise to bet against quality on the demand side of the equation irrespective of short term seasonal pressure.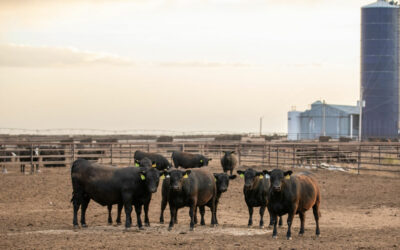 Fourth quarter demand for premium quality grade beef carcasses is predictably high. End users—grocery stores in particular—place orders several weeks ahead of the December timeline to fulfill holiday middle-meat needs. Prime grade carcass supplies have disappointed throughout the year with 11.2% fewer total pounds of Prime carcasses acquired so far.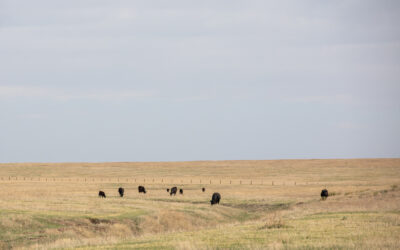 The current cattle markets can provide a history lesson for those new to the scene. To give a quick recap of that era: record-high prices, fueled by a supply chain starved for cattle numbers, came to an abrupt end. This signaled the end of tight cattle supplies, caused by drought liquidation, and beef cattle producers were able to restock the nation's cow herd.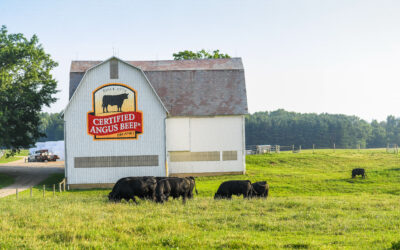 The brand's commitment to aggregating winning outcomes is reliant on the relevance of the brand's carcass specifications to each sector of the beef industry, and ultimately the consumer. This commitment to evolve as the overall industry progresses has resulted in the brand's recent adjustment of the hot carcass weight maximum to 1,100 lb.