Premium Beef Remains in Fashion
MARKET UPDATE
Federally inspected (FI) slaughter last week totaled 651,000 head. That's 18,000 fewer than the week prior. The lighter volume was a departure in what has been a fairly robust summer season of weekly head count totals, but this week's projection is 660,000. Large beef cow slaughter numbers continue to skew head counts in the FI weekly sum.       
Recent packer profit margin estimates are in the $200 to $250/head range. Fed cattle prices turned around last week with a $1/cwt. average increase across the normal six states. Iowa continues to lead the cash market with a high of $147/cwt. in their market. Nebraska feedlots saw $140 to $145/cwt. while still posting disappointing quality grade results compared to the past two years.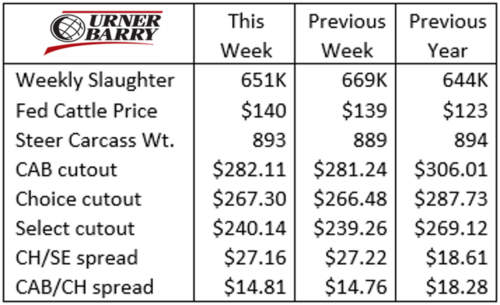 At the other end of the spectrum,  Texas spot market pricing was from $135 to $136/cwt. and Kansas was $136 to $138/cwt.
The carcass sales side of the market saw a fairly stable environment last week, with USDA and Urner Barry reporting prices either side of unchanged. The sideways trending price structure for carcass cutout values is as stable and unmoving as we've seen in quite some time.
While minimal, we have observed a positive trend since spring. The early May CAB cutout value of $272/cwt. compares to the latest $282/cwt. last week. That's a 4% increase in a period that has a five-year average price drop of 15%.
Competition for more richly-marbled middle meats has been a driver during the summer market and we anticipate that to continue as long as the grade underperforms through the fourth quarter.
PREMIUM BEEF REMAINS IN FASHION 
Since the start of 2022, the national Choice grade percentage posted record-large numbers through the first week of June. Easily the highest volume quality grade category, Choice increased specifically due to slippage in the proportion of Prime carcasses.
This year's Prime grade percentage was not expected to surpass the summer 2020 highs of 10%, but the recent drop below 8% is disappointing to end users trying to fill orders at a reasonable price.
Recent data shows the Choice carcass category declined from 74% in the first week of July to 72.4% by the month's end. However, it's not due to more carcasses receiving the Prime stamp. Quite the opposite – quality grades are dropping resulting in more Select grade carcasses. The Premium Choice or "upper 2/3's Choice" category, primarily occupied by the Certified Angus Beef ® brand, has similarly suffered a volume decline since early May, putting year-to-date carcass production down more than 3%.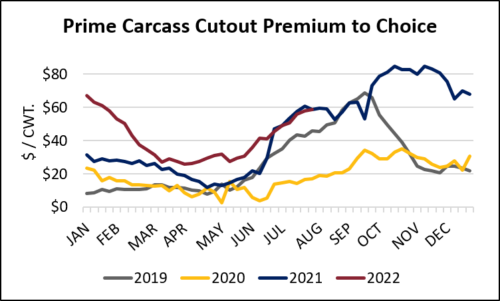 Through much of the spring season, the lower quality Select carcass share held steady with the 2021 pattern with a near record-low volume in the 12 to 15% range. However, as the summer fed cattle supply has been ultra-current, particularly in the north, sub-optimal ribeye marbling measurements allowed the Select category to drift higher than 16%. This is larger than summer values in the past two years.
This supply data goes against what beef customers increasingly desire and are willing to pay for premium middle meats. To offset this drop, end users have started to suspend higher-quality beef with deep chill storage process known as "suspended fresh". This ability to hold beef for months near its freezing point, but still in a fresh state, has elevated buying and storage of premium middle meats before prices soar from fourth quarter demand. What we don't know is the magnitude of volume that this is happening. This activity has elevated middle meat prices, particularly ribeyes, midway through the third quarter in recent years.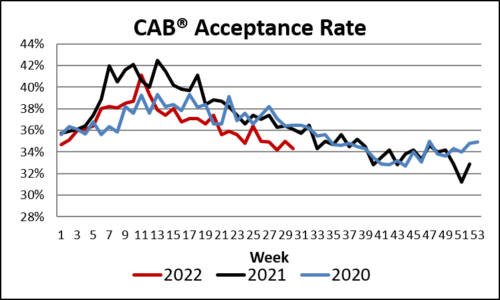 This modern buying strategy and diminishing seasonal access to Prime beef (including the Certified Angus Beef ® brand) has rapidly elevated the Prime to Choice cutout value spread. The Prime cutout premium to Choice last week at $58.77/cwt. is the same as a year ago. This has generated the top end of the Prime grid premium packer payment of $45/cwt. and a market average of $22/cwt. With the low end of the range at $0/cwt. for Prime, it's important that readers understand that grid marketing formats vary widely, as well as the premiums/discounts relationship to the base price.
HEIFER CARCASS WEIGHT FACTOR
It seems we've discussed carcass weights too often in the past 36 months but it tends to be one of the most telling data points in the beef business. The latest data pegs the weighted average steer and heifer carcass weight at 862 lb., 4 lb. lighter than the same week a year ago. The lighter trend isn't surprising for two reasons. First, backlog-induced record high carcass weights were noted in 2020 with the mid-July 873 lb. average crushing the 2019 weight for the same period by 33 lb. July 2021 summer weights were a bit lighter, but chalked up the second heaviest on record, retreating only 6 lb. from the prior year's record.    
Early 2022 weights amazingly topped the two previous years from February through early May before healthy packer processing speeds restored currentness to the feeding sector. This summer flipped the script as northern feedlots pulled cattle ahead and optimally finished pens became hard to find.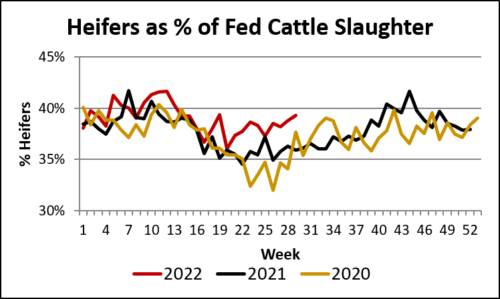 Since late April, heifers have factored more prominently in the fed cattle mix than either of the two preceding years. The year-to-date 39% average of total fed cattle compares to 37% in 2020 and 37.5% in 2021. As the beef cow herd contracts, more heifer calves find their way to the packing plant.
Since heifers are accounting for a larger share of the fed cattle slaughter and their average carcass weights are 70 lb. lighter than their steer cohorts, this summer's lighter average carcass weights are partially due to the heifer influence.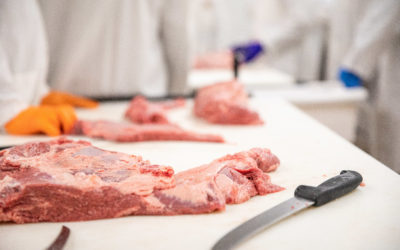 Today's Premium Choice and Prime beef production volume is monumentally larger than it was in 2006 when just 14% of Angus-type carcasses met CAB specifications, compared to our latest annual average of 36%. The current small drops from record-high production volumes create supply concerns among grocers and restaurant partners in today's demand-driven environment.
read more