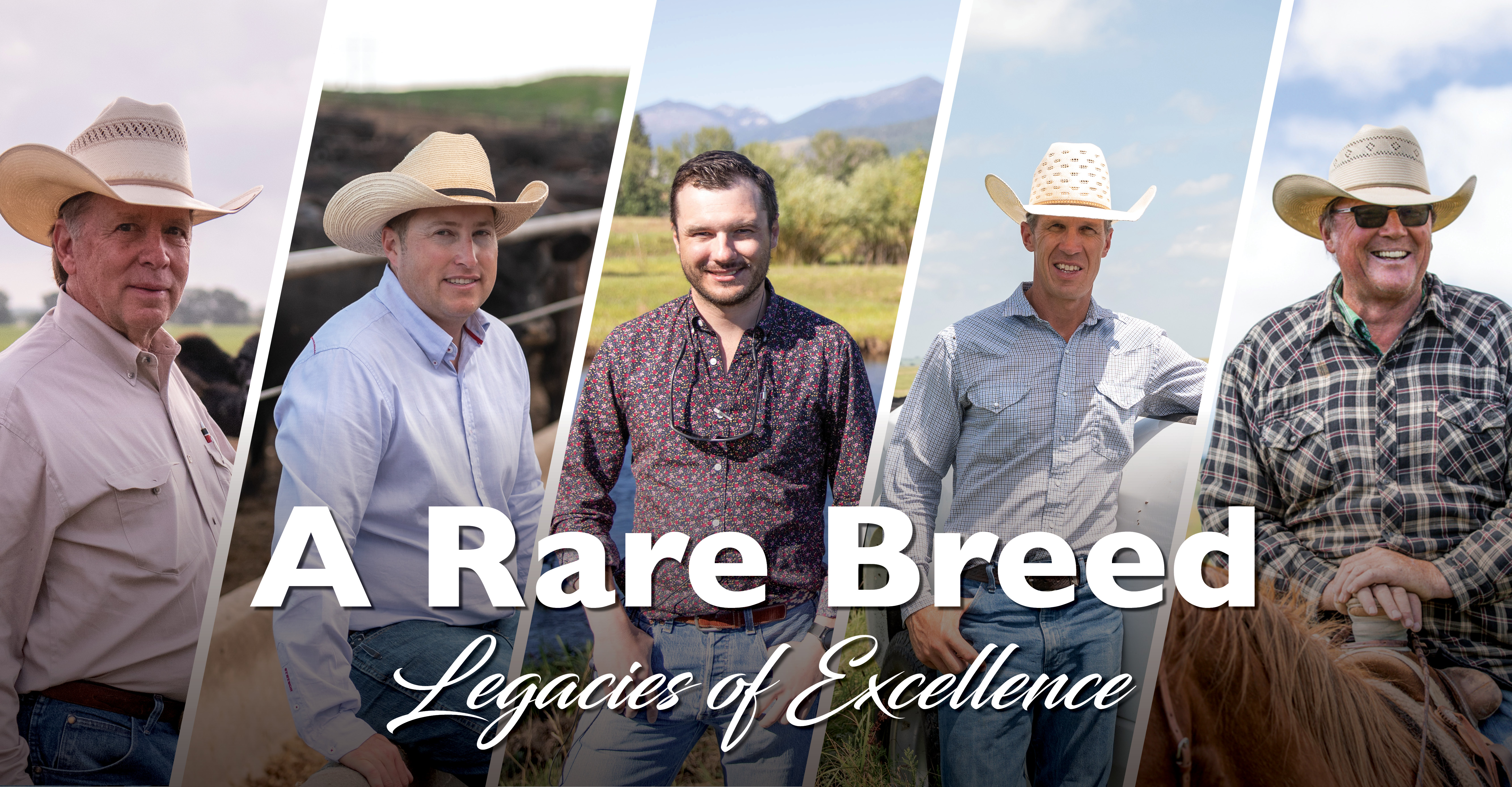 Building a legacy to remember
Land and cattle, equipment and buildings—they've all been passed down through cattle families over many years. There's the worn bull sale sign tucked up in the barn or the century-old fishing cabins by the river. Those things mean something to the ones who've held on to them through the years but if the truth were told, the most important thing passed on from one generation to the next isn't a thing at all. It's the legacy of excellence.
These families know that doing the best they can is not only a worthy goal, it's also the most profitable, and the most sustainable, too. And when a legacy is all the world has left to know you by, there won't be anybody wondering what you stood for. They'll already know.
May this five-video documentary series inspire you to step up your commitment to quality beef production, and build a connection with the Certified Angus Beef ® brand.
Wilson Family
Beef Northwest & Wilson Cattle Co. | North Powder, Oregon
It's in the Wilson family's DNA to look for opportunities to innovate around every corner. At the same time the Beef Northwest team fiercely protects the best traditions of the past.
It's cowboys and cutting-edge technology, a commitment to excellence in every chore. Quality cattle-feeding requires focus beyond the feed bunk.
Sustainability was a mindset at Beef Northwest and Wilson Cattle Company long before the term became a buzzword. It's not just asking how to make better cattle, but how to create a better system.

"Feeding the world with what we do, I take that to heart."
Zach Wilson
The Huyser Family
M&M Feeders | Lexington, Nebraska
"Honesty is the best business advertisement you can have. We have always stuck to our guns on that. It has always paid off," Mel Huyser says.
Still today, word of mouth, long-time relationships and industry connections keep funneling commercial ranchers back to them.
For the family, it's not just about keeping a business in the black. It's about building a life, one they can share together now and pass down later.

"We've got that family touch. It's somebody in the family feeding the cattle, taking care of the cattle day-to-day."
Daron Huyser
Bodey Langford
Langford Cattle Company | Lockhart, Texas
The San Marcos River is not violent by nature. In no hurry, were it not for the thousands of people floating it yearly, it'd be hard to tell if it moved at all.
Yet it does – constantly and steadily. It shapes the path it takes, carving into the earth and making its lasting mark.
Much like the river in Bodey Langford's backyard, he's a gentle but steady force, a constant mark in the cattle industry and the lives he touches. Like the natural springs that source the river, he begins his story with those who came before.​

"All the people here in South Texas kept saying, 'You're going to get too much Angus in your herd, and they don't do well down here.' But I never did witness that."
Bodey Langford
David & Ann Rutan
Morgan Ranches | South Mountain, Idaho
Heading south out of Boise on highway 95, cell-phone service bars drop fast. The road begins to wind through the foothills and there are more cow-crossing signs than wildlife the closer it brings you to Jordan Valley, Oregon.
"It may not be the best country, but if you have enough of it, a cow will do pretty good," David Rutan says.
Spared from tornadoes, hurricanes and humidity, this high desert country manages to give its residents all four seasons–sometimes in weeks or days—so cattle have to adapt quickly.
Angus cows just work here.

"The better the cattle got the more I could see to do."
David Rutan
Matt & Amy Perrier
Dalebanks Angus | Eureka, Kansas
"Practical, profitable genetics." A tagline that's driven breeding philosophies for generations of Perrier cattlemen.
Like most successful seedstock breeders, the Perriers are more concerned with their customer's bottom line than their own, knowing strength in the former will naturally help the latter.
They've been aiming for carcass quality since before it was the standard. Combined with cows that consistently raise great calves, it sets the Dalebanks program apart from other Angus producers.

"We try to be constant learners and get better every day in whatever we're doing. With our faith, with our sports and activities, with our school and learning and with our work around here."
Matt Perrier