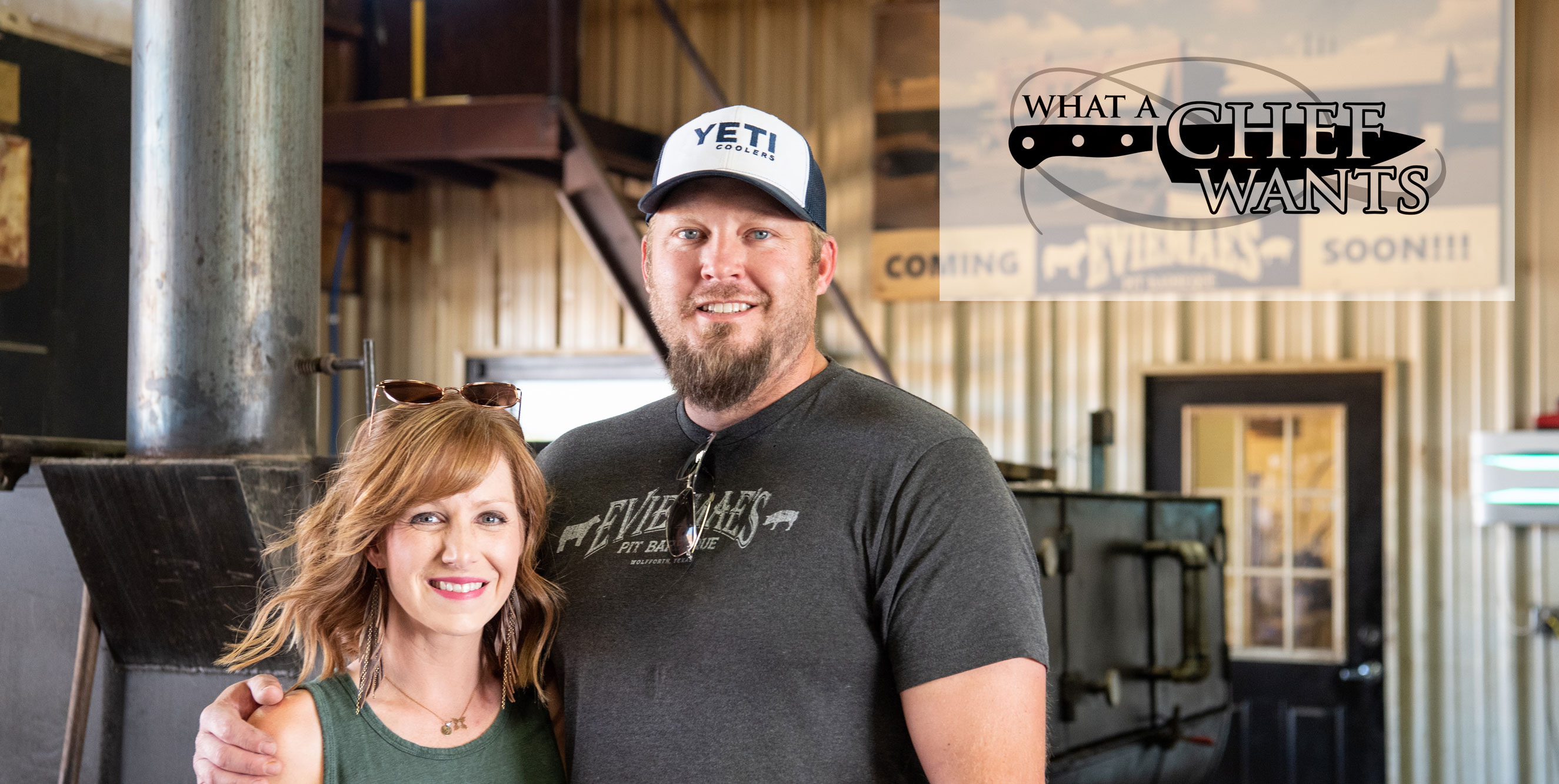 A little BBQ journey
From food desert to food truck, brick and mortar to drive-through, Evie Mae's has arrived
Story and photos by Abbie Burnett
July 2020
"I don't think I can do this. I just want to pack everything up and come home," Arnis Robbins told his wife. The sun was rising on opening day after a night of cooking in a food truck that cost nearly all their savings.
He'd only been barbecuing on a live fire for three months, never worked in foodservice or sold food. Exhausted to a breaking point, he called Mallory.
"No," she'd said. "You're going to see it through. We're going to do this and just see what happens."
When their Tucson, Ariz., roadside popup opened at 11 a.m., customers just came out of nowhere.
That trend would follow the couple.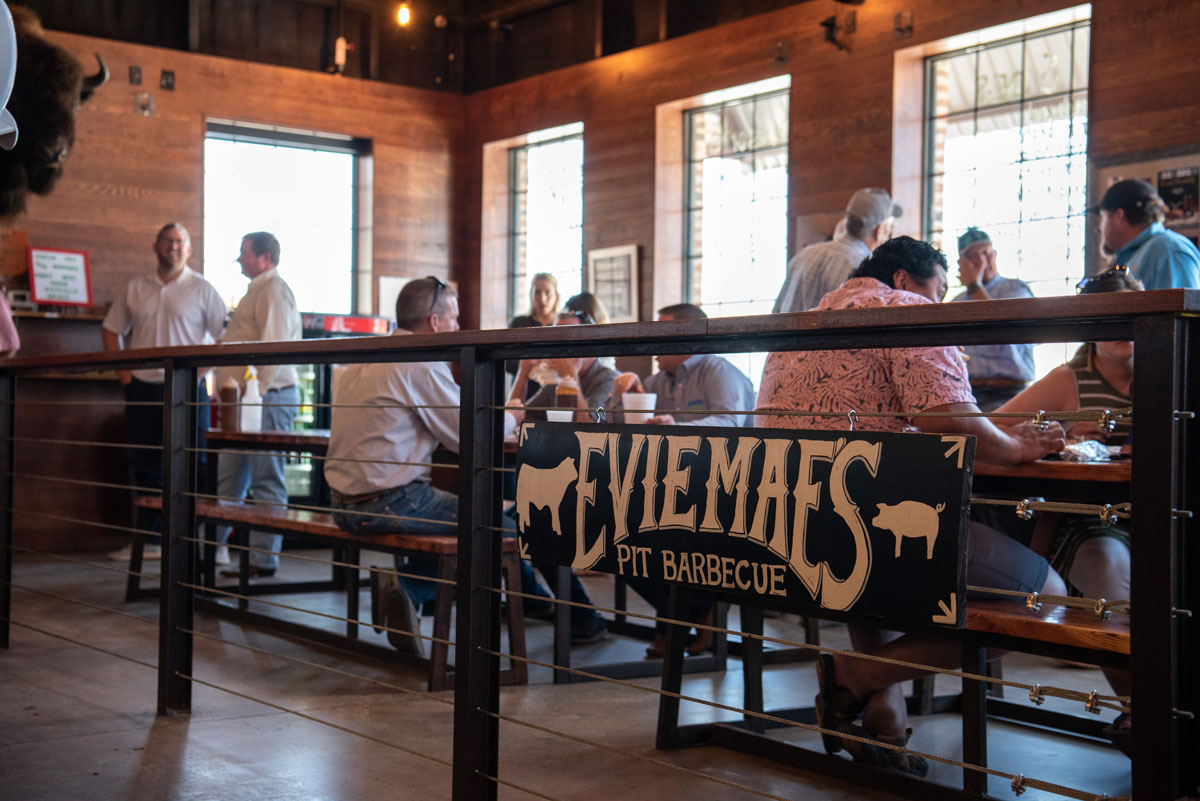 If you build it, they will come
He'd grown up on a peanut farm in eastern New Mexico. It was kind of a "food desert," so the family knew little about quality meat or barbecue.
Robbins developed celiac disease shortly after they married, and the newlyweds traded their "eating out" budget for premium groceries. He soon discovered he liked to cook more than eat.
Applying farm-learned welding skills to build a reverse-flow smoker on a 750-gallon propane tank, the creative cook admits the food wasn't great at first, and it was super expensive to cook for just two.
"But in that time, I realized I have a real passion for this," he says now. "I enjoy doing it."
He thought bigger, which led to that early-morning call in March 2014.
After a successful summer, Robbins was enjoying his side hustle more than his full-time landscaping business, and the timing felt right.
Drought and low prices had already seen his parents leave the farm for Lubbock, Texas, so the young family followed, with soon-to-be 2-year-old Evelyn Mae in tow.
They manage to set up that trailer in front of a storage facility in the Wolfforth suburb just three months later, but it took nearly two months to break $1,000 in sales.
"It was a struggle," Robbins recalls. "I felt we were going to come here and it was just going to be a hit right off the bat and be an absolute success story from the beginning."
Then a miracle happened.
One morning, Daniel Vaughn, barbecue editor for Texas Monthly Magazine (and "second only to the governor") heads up the line.
Vaughn eats, engages in small talk and leaves. The next morning, he publishes his blog review. Within 45 minutes, people flock to the trailer.
"That summer, we went from nobody knows who we are to everyone wanting to come see if it's as good as they've been told," Robbins says. In six months, they pour concrete for the brick and mortar.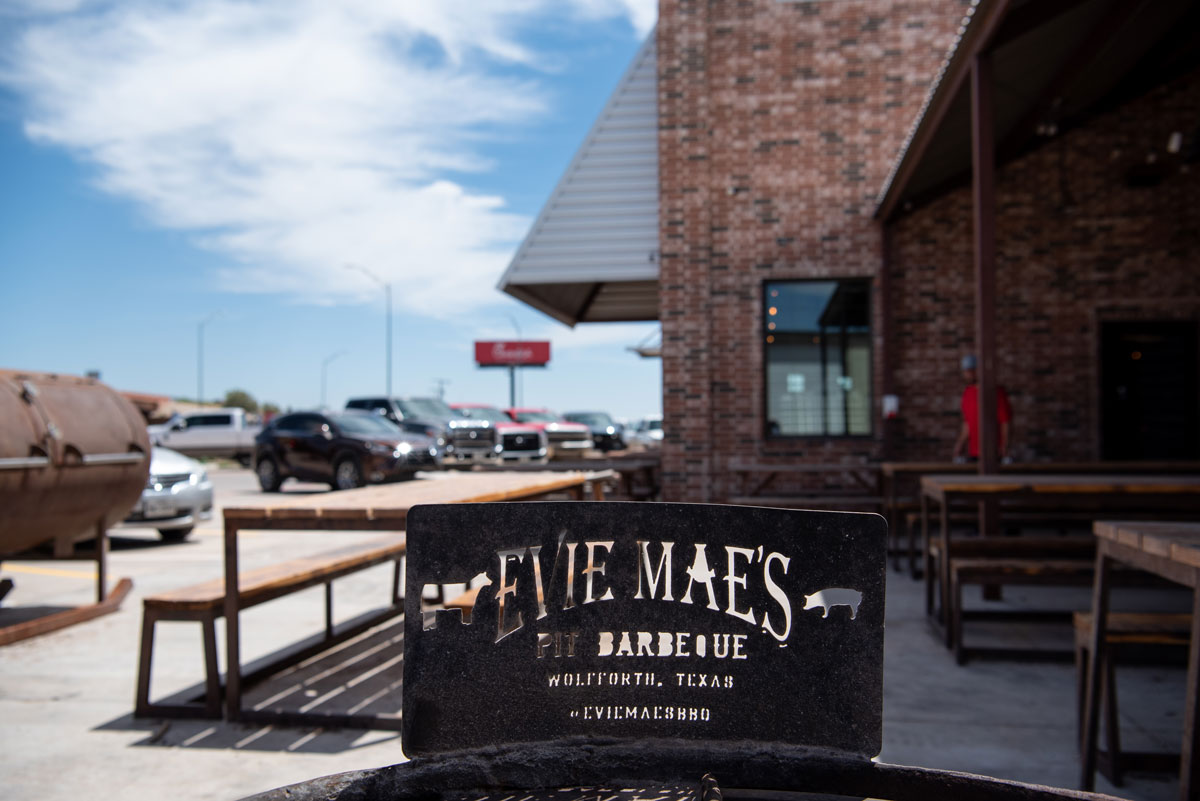 Destination Lubbock
To outsiders, Lubbock is cotton fields and Texas Tech University. A day's drive from most of barbecue's Dallas-Austin-Houston golden triangle, it's far off the beaten path.
When the 2017 Texas Monthly barbecue edition listed the top 50 joints, that changed.
Evie Mae's was #9.
"We met people from all over the state that wouldn't have come out here otherwise," Robbins says. Austin locals were saying Evie Mae's is just as good as back home.
"It just starts with a really, really great product," he says. "And treat it right, be patient with it, and know it's not done until it's done – that's the magic."
That magic is Certified Angus Beef® (CAB®) brand Prime briskets, seasoned only with salt and pepper.
Trying other products before CAB, Robbins had boxes with briskets from 8 to 25 pounds. That was at odds with the need for consistency, especially hard to maintain over a live fire.
"For all of those briskets to basically come out the same when they're cooked – when you throw in West Texas' heat and cold, and dry ambient humidity, it's amazing."
He knows every one of the 300 briskets they cook per week needs to be perfect.
"Because it's not fair for the person behind that person, who just finished a brisket, to get a new one and it not be the same," Robbins says. "Why shouldn't they all get the same quality and the same great slice of meat?"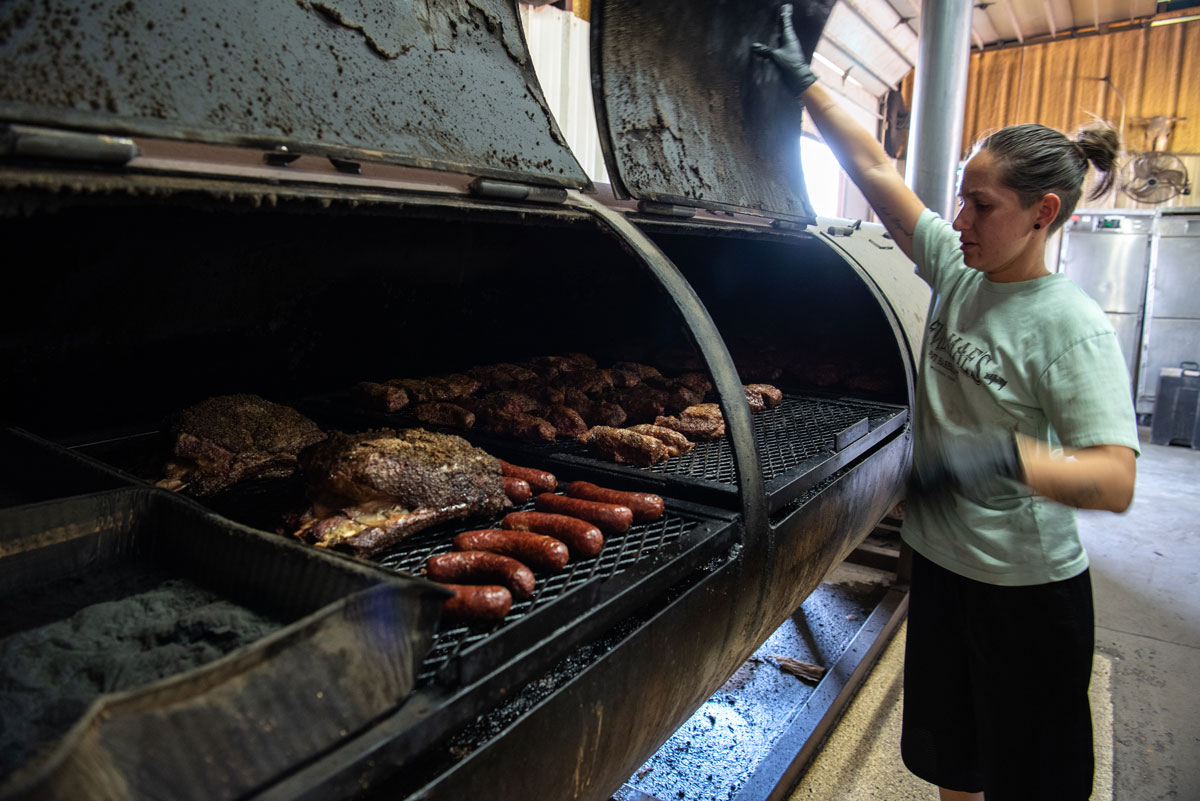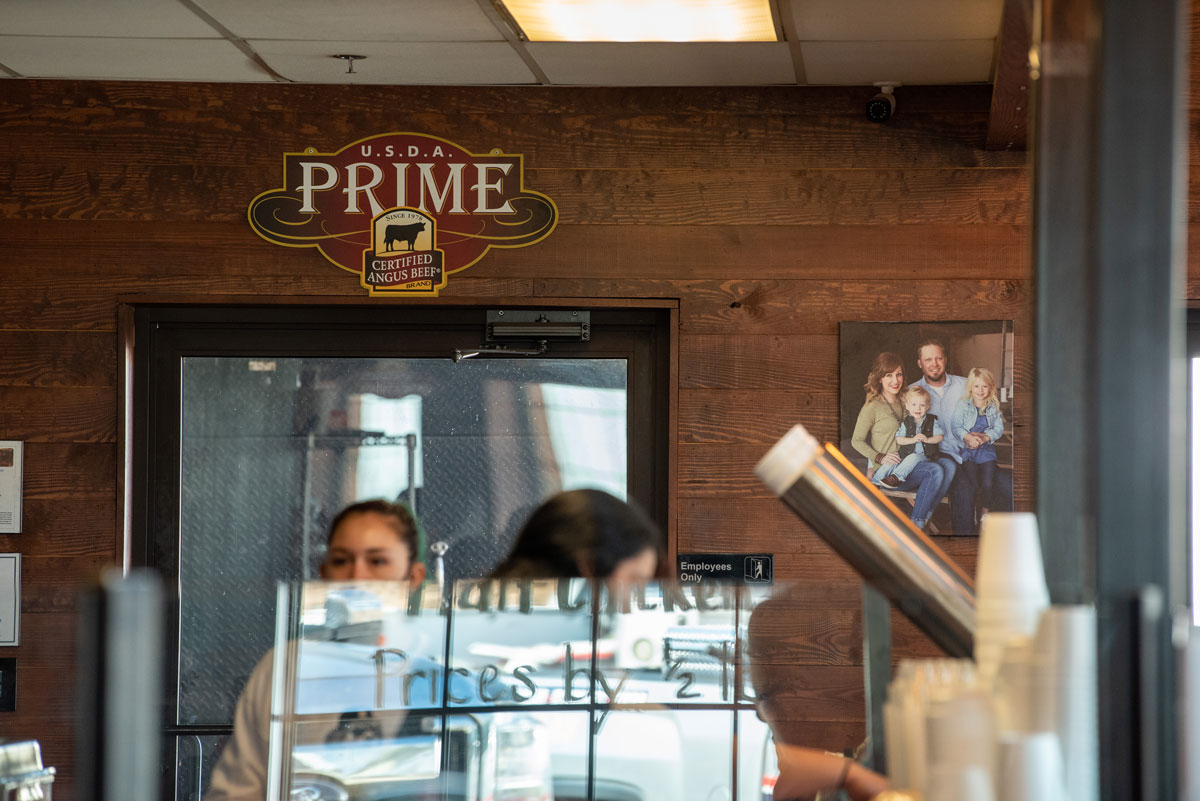 Blindly bought in
It happened so fast.
Texas was one of the last states to mandate closures from COVID-19. The Robbinses began to prepare as venues closed in Houston, then Dallas, followed by Austin.
Two days later, Lubbock shut down.
Their best option was to take advantage of their large parking lot. In can-do fashion, they moved dining tables and cash registers, and a skid-steer elevated their menu board. In the end, they had a three-lane, high-capacity barbecue drive-through.
"Nobody blinked an eye," Robbins says. "We had 100-degree weather, we had freezing weather, we had 50-mile-an-hour winds, and everybody just powered through.
"It felt like we had been building and preparing for this for the last four years. We didn't know it, but it was so hard and easy at the same time."
The experience has brought Robbins closer to producers.
"I have the greatest respect for those folks. Kind of like barbecue, if you don't absolutely love it, you're not going to be successful because it is difficult, dirty, hard work," he says.
He knows a lot of the business is out of their control and can't imagine the frustration producers are feeling.
But like ranching, it's about the people—both the ones they serve and the ones alongside.
"I have never once had to explain who we are, where we came from or how we do things," Robbins says, praising his team.
He can do things while "running with blinders," but sometimes he takes a chance to look around.
"It literally takes my breath away. It is amazing what the community has done to support us, it's amazing what my wife has done. This little barbecue journey is just mind blowing."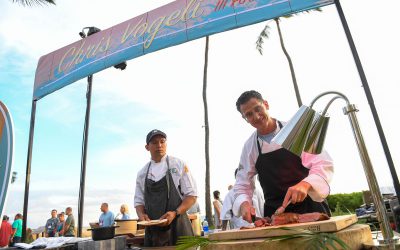 At III Forks, an upscale steak and seafood restaurant in Frisco, Texas, the beef must match the ambiance and the service. Chef Chris Voegli says it all must exceed expectations. It's that attention to detail at the final step that makes the cattleman's attention to detail worth it.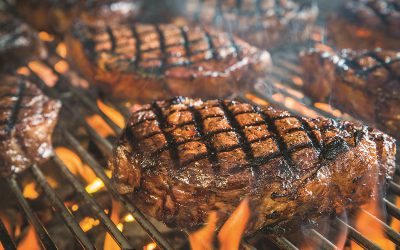 As a moderately to highly heritable trait, marbling is something that cattlemen have a lot of ability to manage. It also happens to be one of the major contributors to beef flavor. Texas Tech University meat scientist Jerrad Legako spoke about the topic at the 2020 American Society of Animal Science meetings.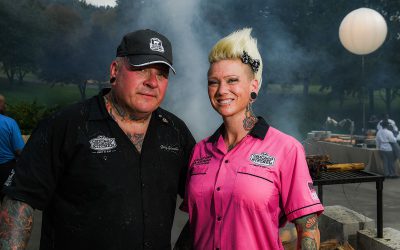 Greg and Kristina Gaardbo bring people together over great food and great beef. The Chicago Culinary Kitchen is known for their delicious Texas-style barbecue prepared with passion, flair and Certified Angus Beef® products.