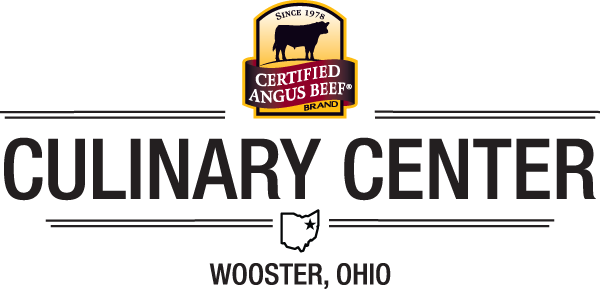 The Culinary Center at our corporate office is a playground for world-class culinarians, meat scientists and… ranchers! This epicenter of beef education is an ideal place to learn more about the brand and what it takes to qualify for CAB premiums. Some of our favorite guests are those who are responsible for supplying the brand.
Choose the Culinary Center as your next off-site meeting destination.
Hear what cattlemen like you have to say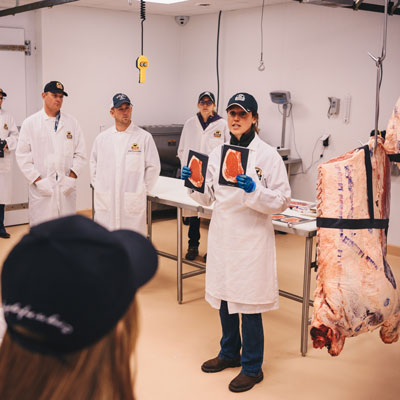 Build
YOUR BEEF KNOWLEDGE
Get a behind the scenes look at the science behind the brand's standards. Experience a hands-on meat cutting demonstration and see how different styles of beef fabrication add value.
Our meat scientists and industry experts take you through the entire beef carcass teaching drives value in today's market.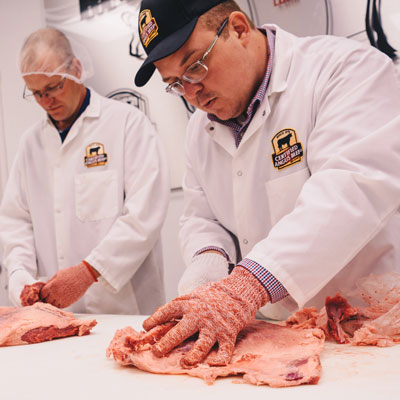 Discover
APPLICATIONS FOR CATTLEMEN
Achieving the ideal carcass quality starts with herd management. Hear how implementing changes may translate to a higher rate of success. Learn why most cattle fall short of qualifying for the brand and how it affects producers' profitability.
Find out how the brand is leveraging quality beef to grow demand for registered Angus cattle.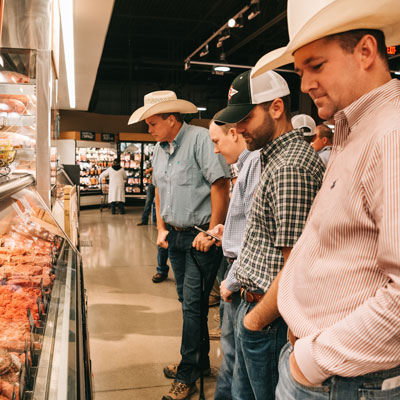 Some of the brand's best foodservice and retail partners reside in Northeast Ohio. Get a sneak peek at how your product is delivered to consumers and restaurateurs.
It's not all about meat! Area attractions include the Rock & Roll Hall of Fame, the Professional Football Hall of Fame or a Cleveland Indians baseball game!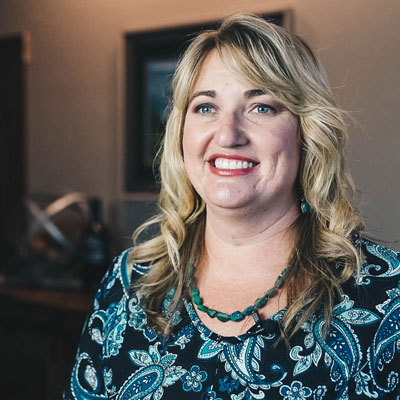 Elizabeth Perkins
Kansas | Green Garden Angus
"We've had incredibly good food and had an incredibility good time. We learned more specifics about beef cuts and where the value is for us as producers – and for our commercial producers who put animals into the feedlot systems and may market on the grid. We get a lot of general numbers, but at the Culinary Center we broke it down to specifics. That is something I have never done, and I don't think anyone else in the room had either. It was an eye-opening experience and something I think everyone will take home with them."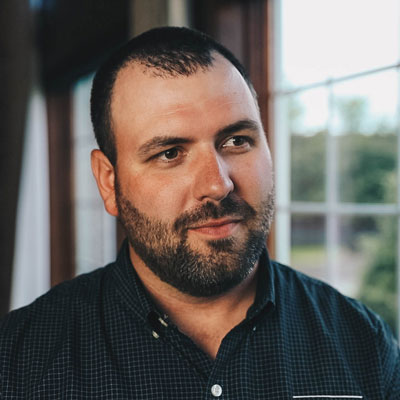 Matthew McBride
Tennessee | McBride Angus
"The meat lab was phenomenal. Getting to see Diana and Paul give a little understanding on how cattle become CAB, how they aren't CAB and how they meet in the middle. Seeing as a seedstock producer how kinds of bulls we have impact the end product. It isn't just people going out there saying this is what CAB should be. They have meat scientists on staff."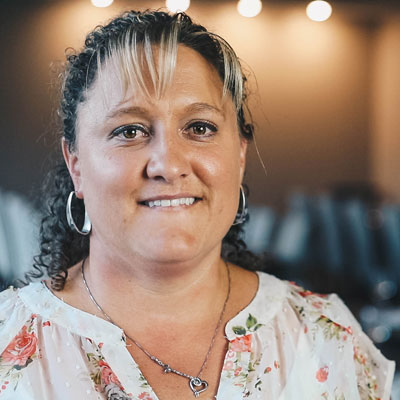 Lacey Sutherlin
Montana | 3C Cattle
"If producers can get the chance to come to CAB and the Culinary Center, it's an awesome opportunity. It just shows you what they do to protect the brand, the brand assurance, the breaking down the carcass and learning value of the primal cuts and the percentage those primals makeup of the carcass. It hits home and takes everything that we do every day in our operations and the reasons why to make a better beef product for retailers, packers, etc."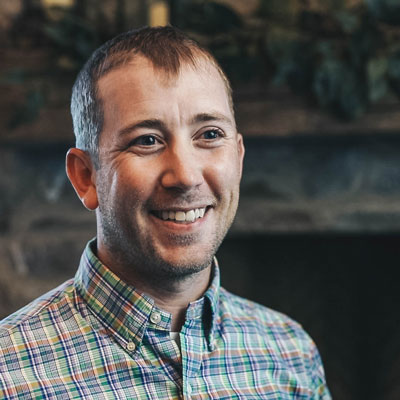 Luke Mason
Tennessee | Mason Farms
"It's an amazing facility. The research, the men and women, they put a lot of time and dedication into the brand to make a better product for consumers. Going home with the knowledge I gained and what was brought to my attention, I'm going to look for CAB in the stores, restaurants and help other producers genetically improve their cattle herd."
Get Started
Our team will work with you to build a customized, unique agenda for your group. We recommend reaching out at least 4 to 6 months in advance of the desired dates you would like to visit Wooster.
We offer our space and resources free of charge. The things you should plan to pay for are transportation to the Culinary Center, hotel fees (located across the street from CAB and corporate rates available) and any extracurricular activities or off-site meals.
To get the most out of an event at the Culinary Center, we recommend 1.5- to 2-day events a minimum of 25 people. We do accommodate larger or smaller groups.
Contact us to start planning!